Quantum Vibe: Château Périlleux Now On KIndle & DriveThru [ Nov 2, 2020 ]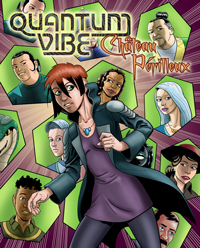 The hiatus is over, but now's still a good time to go back and read the previous volume of QUANTUM VIBE: Château Périlleux. Now available in digital format on Kindle and Drive Thru Comics!
QUANTUM VIBE: Château Périlleux asks how does a society without a formal government deal with crime and criminal conspiracies? In the far-future space-city known as Bubbleopolis, they do it with a mixture of wit, grit, and a culture based on rolling up one's sleeves and doing what must be done. Diana Martelli, a recent arrival, likes to call it compassionate individualism. And speaking of, young Diana is tasked with finding out who killed a supposedly un-killable android -- and uncovers a conspiracy which shakes the very foundations of the city and its culture.
As a bonus, we've added sixteen pages of "The Trial", a supplement to "Château Périlleux" which was not included in the printed version. Enjoy!
Please help Scott keep QUANTUM VIBE alive!
Buy our books:

Become a subscriber or patron
Transcript For Strip 226
Panel 1
Exterior view of Circumluna 2 – a spaceport orbiting Luna at about 5,000 km. It has two docking-rings, a larger ring for interplanetary ships, and a smaller one for local traffic. In between is a fat torus of a habitation area. We see Luna looming large in the background
Caption: Circumluna 2, in orbit around Luna, is a busy way-station for interplanetary visitors.
Nicole: Our shuttle to Aldrinopolis leaves in two hours, so we have plenty of time.
Panel 2
Seamus and Nicole, with their luggage, emerge from a terminal gateway along with several other travelers.
Seamus: First we must visit the local Bank of Rivendell office, to get our money changed.
Nicole: Huh? Changed to what?
Panel 3
Medium 2-shot of Seamus and Nicole. Nicole looks incredulous.
Seamus: To 'miltons.' It's a fiat currency that is the only legal money on Luna.
Nicole: Fiat currency? Loonies don't like augrams or silgrams?
Panel 4
Seamus and Nicole enter the doors to a concourse shop front marked 'Bank of Rivendell.'
Seamus: Oh, your typical Lunan might, but the authorities strongly discourage using them.
Seamus: I'll let the account agent here explain it to you.
Panel 5
Nicole and Seamus stand before a tall desk behind which stands an android account agent.
Agent: I'll be happy to explain how this works, Ms. Oresme.
Agent: On Luna, all monetary exchanges are required by law to be made using the government's unit of account, the 'Milton.'
Panel 6
Medium close-up of the android, speaking.
Agent: We are happy to convert your augrams and silgrams into miltons for your use during your visit here.
Agent: Simply estimate how much money you'll need during your stay on Luna, and we'll give you a debit tab loaded with the amount in miltons.
Panel 7
Two-shot of Nicole and the agent.
Nicole: And then when I leave I can change back the miltons I have left over?
Agent: Er, no. The Capital Control Law of 489 forbids the conversion of miltons to foreign money.
Agent: Also, unless you have a trading license, you are not allowed to remove miltons from Luna or near-Lunar space.

Panel 8
Three-shot of Seamus, grinning wryly, Nicole, with a you-gotta-be-kidding expression, and the android agent.
Agent: When you leave you must surrender any remaining miltons with the Lunar Revenue office, also conveniently located here on Circumluna 2.
Agent: Of course, you can also spend your remaining miltons at the station gift shops.