Quantum Vibe: Château Périlleux Now On KIndle & DriveThru [ Nov 2, 2020 ]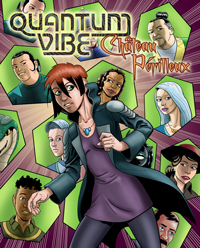 The hiatus is over, but now's still a good time to go back and read the previous volume of QUANTUM VIBE: Château Périlleux. Now available in digital format on Kindle and Drive Thru Comics!
QUANTUM VIBE: Château Périlleux asks how does a society without a formal government deal with crime and criminal conspiracies? In the far-future space-city known as Bubbleopolis, they do it with a mixture of wit, grit, and a culture based on rolling up one's sleeves and doing what must be done. Diana Martelli, a recent arrival, likes to call it compassionate individualism. And speaking of, young Diana is tasked with finding out who killed a supposedly un-killable android -- and uncovers a conspiracy which shakes the very foundations of the city and its culture.
As a bonus, we've added sixteen pages of "The Trial", a supplement to "Château Périlleux" which was not included in the printed version. Enjoy!
Please help Scott keep QUANTUM VIBE alive!
Buy our books:

Become a subscriber or patron
Transcript For Strip 246
Panel 1
Nicole, in a new outfit, is looking up at some of the Mega Towers in Aldrinopolis' Hub. From a low angle see the towers rise kilometers into the sky above her.
Hari (OP): You wouldn't know it now, but I used to own the tallest building in Aldrinopolis.

Panel 2
Overhead angle of Nicole, standing in a penthouse courtyard, looking over a chest-high, outer wall, down to the street level roughly a kilometer below.
Hari (OP): I've had a lot of offers for this location, from people who want to raise another Mega-Tower.

Panel 3
Nicole turns to look back towards the penthouse. Seamus and Hari Copperton are standing a few meters away, also in the courtyard, which surrounds the penthouse apartment on two sides. The men are holding cocktail drinks.
Hari: But as long as I'm alive, this building stays put.
Seamus: Do you think this building will last two millennia, Hari?
Panel 4
Two-shot of Seamus and Hair, two very old friends enjoying each others' company.
Hari: Oho! So you think I'll only live another 16 centuries, eh?
Seamus: Actually I think by then you'll be quite bored with this place and finally ready to move on.

Panel 5
Nicole walks over to stand with the men.
Hari: Oh, I might tear this pile of iron and silica down and build something new in its place someday.
Hari: But I can't leave this city, Seamus. I made it possible ...

Panel 6
Three-shot of Seamus, Nicole and Hari.
Nicole: As developer of the plasmigraphene dome, you made every city on Luna possible.
Hari: Ah, someone's been telling stories about me. I deny everything.

Panel 7
Upward angle shot on Hari, showing the other towers around them and a good bit of sky.
Hari: But it's true, I invented the domes, and now upwards of 400 million lives rely on their integrity.
Hari: I live in the top of a tower because if this dome fails, I will pay no less a price for that than anyone else.

Panel 8
Three-shot of Seamus, Nicole and Hari. Nicole is looking upward, a bit nervously. Seamus chides his friend.
Seamus: It would take a direct hit by a kilometer-wide meteor to break this dome.
Seamus: A strike which by the way would kill a lot more people on Terra.
Seamus: So I think you're off the hook here, Orcus.