Quantum Vibe: Château Périlleux Now On KIndle & DriveThru [ Nov 2, 2020 ]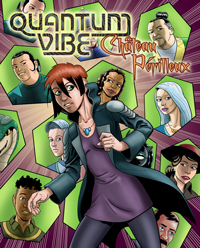 The hiatus is over, but now's still a good time to go back and read the previous volume of QUANTUM VIBE: Château Périlleux. Now available in digital format on Kindle and Drive Thru Comics!
QUANTUM VIBE: Château Périlleux asks how does a society without a formal government deal with crime and criminal conspiracies? In the far-future space-city known as Bubbleopolis, they do it with a mixture of wit, grit, and a culture based on rolling up one's sleeves and doing what must be done. Diana Martelli, a recent arrival, likes to call it compassionate individualism. And speaking of, young Diana is tasked with finding out who killed a supposedly un-killable android -- and uncovers a conspiracy which shakes the very foundations of the city and its culture.
As a bonus, we've added sixteen pages of "The Trial", a supplement to "Château Périlleux" which was not included in the printed version. Enjoy!
Please help Scott keep QUANTUM VIBE alive!
Buy our books:

Become a subscriber or patron
Transcript For Strip 26
Panel 1
Aerial view of 26th-Century Brussels. The city should be vaguely recognizable from today but also have various newer structures, traffic-ways, etc. A thin haze permeates the lower levels.
Caption: Brussels, European District.
Caption: Commercial capital of Western Terra.
Voice (from somewhere in city): How long will you be gone this time?
Panel 2
The luxurious bedroom of Wayne Bobinardi. Wayne is overseeing the packing of his luggage, which is being done by an android servant. Also in the room is Alissa, Wayne's wife. Wayne is tall, tan, broad-shouldered, greying at the temples. Alissa is of Armenian descent and still retains much of her youthful glamour.
Wayne: Depends on how things go, Alissa. Anywhere from two weeks to several months.
Panel 3
Two-shot of Wayne and Alissa.
Alissa: Wayne, Jack will be graduating in May.
Wayne: Excellent. Boston University is a great admin school.
Panel 4
Alissa looks at Wayne scornfully. Wayne is slightly embarrassed by his gaffe.
Alissa: Jack couldn't get in to Boston, remember? He's been at Van Rompuy Politek for three years now.
Wayne: Oh! Uh, that's right, how silly of me.
Panel 5
The android servant has completed packing the large bag. Wayne opens the smaller case.
Wayne: Thank you, Cleo, I will pack my own toiletries kit.
Servant: Yes, Sir.
Alissa: It would mean a lot to Jack if you could attend the ceremony.
Panel 6
Wayne has moved into the adjacent bathroom, is gathering up shaving gear etc for his kit.
Wayne: If time permits, I would be delighted.
Alissa: Can't you make the time? Jack really looks up to you.

Panel 7
Wayne turns to face Alissa, gently placing a finger under her chin and looking at her levelly.
Wayne: My wife, we have often had this conversation.
Wayne: The needs of the Mercorp outweigh the needs of its officers.
Alissa: Or their families, yes, I know.

Panel 8
Toiletries kit assembled, Wayne walks out of the bathroom with his wife following in his wake. He glances back at her with some annoyance.
Alissa: My parents were also officers.
Alissa: But what is the great Mercorrp GENSAXWAL to a boy who needs his father?