Quantum Vibe: Château Périlleux Now On KIndle & DriveThru [ Nov 2, 2020 ]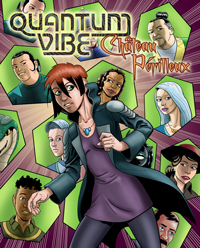 The hiatus is over, but now's still a good time to go back and read the previous volume of QUANTUM VIBE: Château Périlleux. Now available in digital format on Kindle and Drive Thru Comics!
QUANTUM VIBE: Château Périlleux asks how does a society without a formal government deal with crime and criminal conspiracies? In the far-future space-city known as Bubbleopolis, they do it with a mixture of wit, grit, and a culture based on rolling up one's sleeves and doing what must be done. Diana Martelli, a recent arrival, likes to call it compassionate individualism. And speaking of, young Diana is tasked with finding out who killed a supposedly un-killable android -- and uncovers a conspiracy which shakes the very foundations of the city and its culture.
As a bonus, we've added sixteen pages of "The Trial", a supplement to "Château Périlleux" which was not included in the printed version. Enjoy!
Please help Scott keep QUANTUM VIBE alive!
Buy our books:

Become a subscriber or patron
Transcript For Strip 367
Panel 1
Rando Greene is sitting at a table at a sidewalk cafe. We can see a sign 'Cafe de Quark' nearby. Rando is reading something on a pop-up holoscreen.
No dialog.
Panel 2
Medium shot of Rando, from the POV of someone standing on the other side of his table. He's looking up at his interlocutor.
Voice: Mr. Greene, please pardon the intrusion ...
Panel 3
Looking over Rando's shoulder at the interlocutor. It's a tall, tanned woman with flowing blonde hair, and she is dressed to kill.
Woman: ... but I'm in need of a publicist and my friend referred me to you.
Rando: Ah ... please have a seat, Ms -?
Panel 4
The woman is now seated across the small table from Rando.
Woman: Paula Steele. I'm an actress, and I sing a little. I was referred by Obie Carlson, my manager.
Rando: Oh yeah, Obie. Why didn't he call to set up an appointment?
Panel 5
Full two-shot of Rando and Steele. We can see her playing footsie with him under the table.
Steele: He's, um, busy with some kind of legal issue. And I thought it best to meet you in person.
Steele: To find out if you're as ... good as Obie says you are.
Panel 6
Looking over Steele's shoulder at Rando. He's looking interested.
Rando: Oh, Obie has no idea how good I am.
Rando: So, tell me a little about your, um, professional background.
Panel 7
Close-shot under the table, in Steele's lap. She's got a device about the size and shape of a thumb drive and is pointing it towards Rando.
Steele: Well, I studied at the Mulberry Academy, and have had speaking roles in a dozen A-Trade shows, including three musicals.
Steele: I'd like to show you my portfolio. Can we go to your office?

Panel 8
Steele and Greene arise from the table, Rando dabs a napkin at his mouth, having finished his breakfast. Steele is all smiles.
Rando: Sure, it's not far. But I hope you don't mind that it's a home-office.
Rando: I like to keep my overhead low.
Steele: I don't mind at all.