Quantum Vibe: Château Périlleux Now On KIndle & DriveThru [ Nov 2, 2020 ]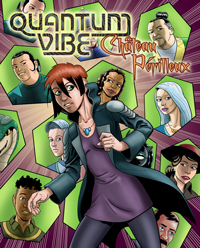 The hiatus is over, but now's still a good time to go back and read the previous volume of QUANTUM VIBE: Château Périlleux. Now available in digital format on Kindle and Drive Thru Comics!
QUANTUM VIBE: Château Périlleux asks how does a society without a formal government deal with crime and criminal conspiracies? In the far-future space-city known as Bubbleopolis, they do it with a mixture of wit, grit, and a culture based on rolling up one's sleeves and doing what must be done. Diana Martelli, a recent arrival, likes to call it compassionate individualism. And speaking of, young Diana is tasked with finding out who killed a supposedly un-killable android -- and uncovers a conspiracy which shakes the very foundations of the city and its culture.
As a bonus, we've added sixteen pages of "The Trial", a supplement to "Château Périlleux" which was not included in the printed version. Enjoy!
Please help Scott keep QUANTUM VIBE alive!
Buy our books:

Become a subscriber or patron
Transcript For Strip 408
Panel 1
A stand-up display case for androids. We see three 'sleeping' androids – on the left, a butler-type; on the right, a repairman type. In the center is Veronica, who we met in Book 1. She is dressed like a stripper, in bustier, lacy bra and panties. There are traces of cobwebs about, indicating this case is little-used.
Nicole (OP): Hey Seamus, look over here!

Panel 2
From Veronica's POV, we see the Shopkeeper (a middle-aged-looking Asian), Seamus, and Nicole.
Shopkeeper: Ah, yes, these are some of our older models, not so much interest in these.
Seamus: What can you tell me about this one?
Nicole: Hey Buford, check this out!

Panel 3
Third-person view: Seamus is looking over Veronica very closely. The shopkeeper is looking hopeful. Nicole is looking off-panel right with a disappointed expression.
Shopkeeper: This V-287 model is around a century old, one owner. She was brought in three decadays ago – that's all I know.
Seamus: Interesting.
Buford (OP): I'd rather not be a part of this.

Panel 4
Two-shot the shopkeeper and Seamus.
Shopkeeper: A classic model, for sophisticated tastes …
Seamus: Is that why there's 'not much interest?'


Panel 5
Now Nicole is looking at Veronica closely. The shopkeeper stands by.
Nicole: Does she have a name?
Shopkeeper: Her memory of her previous owner has been erased, per standard procedure.
Shopkeeper: If you rent her you can assign whatever name suits you.

Panel 6
Three-shot Seamus, the shopkeeper, and Nicole. Seamus and the shopkeeper are dickering, Nicole looks thoughtfully at the android.
Seamus: I'll pay 30 keyin* for three days' rental.
Shopkeeper: I cannot accept less than 60 keyin for this, with a 200 keyin damage deposit.
Caption: * 1 keyin = one silver gram

Panel 7
Two-shot Seamus and the shopkeeper.
Seamus: I'll agree to your deposit but no more than 40 for the rental.
Shopkeeper: 50 keyin and that is my bottom line.
Seamus: 45.
Shopkeeper: Deal.

Panel 8
Four-shot of the Shopkeeper, Seamus, Nicole, and the still inert Veronica. Nicole looks at Veronica dubiously.
Shopkeeper: You drive a hard bargain, sir.
Shopkeeper: If you will wait in the lobby I will get her prepared and bring her out to you in a few minutes.
Nicole: I have a weird feeling about this.