Quantum Vibe: Château Périlleux Now On KIndle & DriveThru [ Nov 2, 2020 ]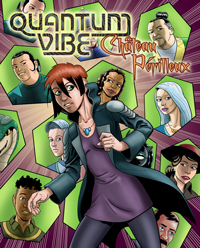 The hiatus is over, but now's still a good time to go back and read the previous volume of QUANTUM VIBE: Château Périlleux. Now available in digital format on Kindle and Drive Thru Comics!
QUANTUM VIBE: Château Périlleux asks how does a society without a formal government deal with crime and criminal conspiracies? In the far-future space-city known as Bubbleopolis, they do it with a mixture of wit, grit, and a culture based on rolling up one's sleeves and doing what must be done. Diana Martelli, a recent arrival, likes to call it compassionate individualism. And speaking of, young Diana is tasked with finding out who killed a supposedly un-killable android -- and uncovers a conspiracy which shakes the very foundations of the city and its culture.
As a bonus, we've added sixteen pages of "The Trial", a supplement to "Château Périlleux" which was not included in the printed version. Enjoy!
Please help Scott keep QUANTUM VIBE alive!
Buy our books:

Become a subscriber or patron
Transcript For Strip 418
Panel 1
Buford, Nicole, Seamus and Ventura are seated at a table in the restaurant. They are looking at holo-screen menus being projected in front of them. Buford does not have her visor on.
Buford: Can I get a menu in Anglish?
Nicole: Use your visor.
Buford: The fisor gifs me a headache.
Ventura (to Seamus): Do you wish for me to also consume food?

Panel 2
Nicole touches a finger to a lower corner of Buford's menu, and it changes to English.
Nicole: Oh, all right. Here you go.
Buford: T'anks.
Seamus (to Ventura): Not necessary. If you like, you may order a glass of lubricant.

Panel 3
Nicole glances at Ventura as she punches her order into her holographic menu. Ventura's menu has disappeared.
Nicole: So, uh, Ventura ... you can consume food?
Ventura: To some extent. I can chew and swallow, of course, and my internal mechanisms can extract minerals and convert sugars to alcohol, which some of my components can use.

Panel 4
Seamus is punching in his order, while Buford still studies her holo-menu. Nicole smiles at Ventura.
Nicole: Convert food to alcohol? Wish I could do that.
Seamus: If that were the case you'd never stop eating.



Panel 5
Nicole gives Seamus a hurt look.
Nicole: You wound me, Seamus. After what happened on Luna, I've learned my lesson.
Seamus: We shall see.
Ventura: Is it permitted to ask, what happened on Luna?

Panel 6
Buford grins a wry grin, Nicole glares at Buford, Seamus smiles quietly. Ventura is placid.
Buford: She took a guy to bed who turned out to be a mercorp spy and a rapist, then got t'rown in jail.
Nicole: Hey! It was ... more complicated than that.

Panel 7
Ventura looks at Buford, who is finally punching her order into her holo-menu.
Ventura: Dr. O'Murchadha said that you are Ms. Nicole's assistant, yes?
Buford: Yes. Why?
Ventura: Then should you be embarrassing your employer this way?

Panel 8
Buford is non-plussed. Nicole laughs. Seamus looks amused. Ventura is calm.
Nicole: Ha-ha! Score one for Robot-Girl.
Ventura: I am not a robot, I am an android.