Quantum Vibe: Château Périlleux Now On KIndle & DriveThru [ Nov 2, 2020 ]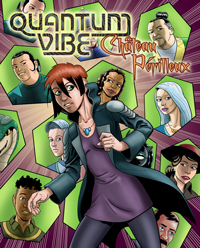 The hiatus is over, but now's still a good time to go back and read the previous volume of QUANTUM VIBE: Château Périlleux. Now available in digital format on Kindle and Drive Thru Comics!
QUANTUM VIBE: Château Périlleux asks how does a society without a formal government deal with crime and criminal conspiracies? In the far-future space-city known as Bubbleopolis, they do it with a mixture of wit, grit, and a culture based on rolling up one's sleeves and doing what must be done. Diana Martelli, a recent arrival, likes to call it compassionate individualism. And speaking of, young Diana is tasked with finding out who killed a supposedly un-killable android -- and uncovers a conspiracy which shakes the very foundations of the city and its culture.
As a bonus, we've added sixteen pages of "The Trial", a supplement to "Château Périlleux" which was not included in the printed version. Enjoy!
Please help Scott keep QUANTUM VIBE alive!
Buy our books:

Become a subscriber or patron
Transcript For Strip 76
Panel 1
Cut to interior, cockpit of the Helio-Flyer. We can see Nicole barely illuminated by the lights on and in her helmet. She is alarmed but not quite panicked.
Caption: Roughly eight minutes previously ...
Nicole (thought): Ship's controls dead.
Nicole (thought): At least my suit is still working, and also my 'Plant.

Panel 2
Looking down at Nicole's suited left forearm. With her right hand she is touching an area on her left wrist, and a panel on the suit's forearm is opening.
Nicole (thought): In the simulator, this'd be 'game over.' But I do have one chance ...

Panel 3
Now, her gloved right hand has extruded small 'fingertips' from the ends of her gloved fingers, which are gripping small wires that have small USB-type mini plugs on the ends and pulling them out of her left forearm.
Nicole (thought): The interface between my plant and the bio-suit is still going strong.
Nicole: And the suit has a backup wire interface with the flyer's control hub.

Panel 4
With her right hand she plugs the wires leading out of her forearm into a socket on the left-side control console which had been hidden under a panel which is now open.
Nicole (thought): I can link through the bio-suit and straight into the control center!
Nicole (thought): I only have seconds … better get this right the first time.

Panel 5
We are suddenly outside, almost a thousand km above the Photosphere. But instead of the Helio-Flyer, we see Nicole herself – or rather, an impression of her. She appears solid white from head to toe, bald, and her eyes are the only facial feature we can see. She is posed as if still seated in the cockpit (which she is). She's also situated head-downward.
Nicole: Whoa! Damn!
Panel 6
Medium close-up of Nicole, assessing the situation. Curved lines and numbers surround her head.
Nicole (thought): It's like I've become the Helio-Flyer!
Nicole (thought): Good thing it was only the control systems that got fried. Everything else seems to be working.

Panel 7
Another full-body view of Nicole above the Photosphere, with various lines and numbers around her.
Nicole (thought): So, what's my situation?
Nicole (thought): Gak! Altitude 950km, velocity 390kps.

Panel 8
Medium close-up on Nicole – now we see her inside the cockpit, which is still dark. But her pupils are white.
Nicole (thought): Too high, too slow. First I'll bake, then I'll plunge. Gotta fix this now!