Quantum Vibe: Château Périlleux Now On KIndle & DriveThru [ Nov 2, 2020 ]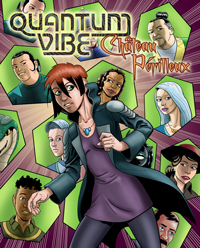 The hiatus is over, but now's still a good time to go back and read the previous volume of QUANTUM VIBE: Château Périlleux. Now available in digital format on Kindle and Drive Thru Comics!
QUANTUM VIBE: Château Périlleux asks how does a society without a formal government deal with crime and criminal conspiracies? In the far-future space-city known as Bubbleopolis, they do it with a mixture of wit, grit, and a culture based on rolling up one's sleeves and doing what must be done. Diana Martelli, a recent arrival, likes to call it compassionate individualism. And speaking of, young Diana is tasked with finding out who killed a supposedly un-killable android -- and uncovers a conspiracy which shakes the very foundations of the city and its culture.
As a bonus, we've added sixteen pages of "The Trial", a supplement to "Château Périlleux" which was not included in the printed version. Enjoy!
Please help Scott keep QUANTUM VIBE alive!
Buy our books:

Become a subscriber or patron
Transcript For Strip 106
Panel 1
Nicole starts to back into the side-corridor but the two men spot her.
Nicole: Feek!

Panel 2
Nicole tries to roll her Bubb quickly backward but can't quite move fast enough, as a Zing grazes the forward face of the Bubb, tearing a small gash across it. Nicole is terrified.
SFX: ZING
Nicole: AAAAA!!! Seamus, they shot me!

Panel 3
Nicole is cornered in the short side-space, one of the men rounds the corner and pauses to consider his options. His Zringer (looks like a large ring on his right-hand finger) is glowing. We see the rip in her Bubb has become a scar as the device heals itself.
Man 1: Whooo-ee!! Look what I found!

Panel 4
Nicole raises her right hand and points her own Zringer at the man. Three Zings emit therefrom and rip through Man 1's body like they were high-powered rifle shots
SFX: ZING ZING ZING

Panel 5
Close-up on Nicole, who is looking at her Zringer. The jewel on the front looks dark.
Nicole: Shuck! I'm out of my charge pack's range, and this Zringer only holds 3 shots.
Nicole: SEAMUS! I got one but the other's in the corridor, I'm in the utility section.

Panel 6
View from the corridor, we see the other man flattened against the wall, Zringer ready, creeping towards the corner around which Nicole can do little else but cringe. Which she does.
Nicole: SEAMUS! I got one but the other's in the corridor, and I'm in the utility section.

Panel 7A
Looking from Nicole's position, we see Man 2 suddenly whirl around the corner, Zringer presented, ready to fire.
No dialog

Panel 7B
Medium close-up on Nicole, cornered in her Bubb, glaring back towards the man about to kill her. She snarls.
Nicole (small, soft): fuck you

Panel 8A
Same angle shot as 7A but now Man 2 is getting blasted by several Zings from OP right.
SFX: ZING ZING ZING ZING
Panel 8B
Close-up on Nicole, fists clenched under her face, eyes wide and blurry, trembling like a leaf in a gale.
Seamus (filtered voice): Nicole?