Quantum Vibe: Château Périlleux Now On KIndle & DriveThru [ Nov 2, 2020 ]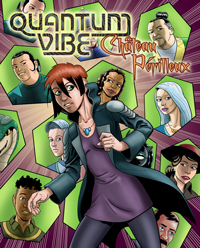 The hiatus is over, but now's still a good time to go back and read the previous volume of QUANTUM VIBE: Château Périlleux. Now available in digital format on Kindle and Drive Thru Comics!
QUANTUM VIBE: Château Périlleux asks how does a society without a formal government deal with crime and criminal conspiracies? In the far-future space-city known as Bubbleopolis, they do it with a mixture of wit, grit, and a culture based on rolling up one's sleeves and doing what must be done. Diana Martelli, a recent arrival, likes to call it compassionate individualism. And speaking of, young Diana is tasked with finding out who killed a supposedly un-killable android -- and uncovers a conspiracy which shakes the very foundations of the city and its culture.
As a bonus, we've added sixteen pages of "The Trial", a supplement to "Château Périlleux" which was not included in the printed version. Enjoy!
Please help Scott keep QUANTUM VIBE alive!
Buy our books:

Become a subscriber or patron
Transcript For Strip 1095
Panel 1
We're back at Nicole and Li's mansion on Carme, by the poolside. Nicole, dressed in a terry-cloth robe, is doing something with her personal Screen as Li, swimming-trunked and drying himself with a towel, looks on.
Li: Will we ever give up our fantasy of gods watching over us?
Nicole: Unlikely. It seems to satisfy some deep-seated need in us. Maybe it reassures us, makes us feel more safe.
Panel 2
Li gestures theatrically as he speaks. Nicole shoots him a wry sideways glance.
Li: Yeah, for though I walk through the valley of the shadow of death, I shall fear no evil.
Li: Because I'm the meanest sumbitch in the valley.
Nicole: I guess you could say that.
Panel 3
Li squats down to become eye-level with Nicole.
Li: Hey, you're not turning misanthrope on me, are you?
Nicole: Of course not, darling. I love humanity.
Nicole: It's the people I can't stand.
Panel 4
Nicole begins a rant.
Nicole: I mean, I developed the Oresme Shield and thought I could leave it at that.
Nicole: But no! Shit-head children keep coming up with exploits to defeat it!
Nicole: Don't they realize what they're doing? The potential for annihilation they're playing with?
Nicole: We have to keep coming up with fixes. It's a race with no end!
Panel 5
Li puts his arm across Nicole's shoulders and busses her on the cheek.
Li: Sure. It's the same with cybernetic systems. I started out as a hacker myself once, remember?
Li: But it's a race you don't have to run anymore. Stephanie has put together a great team.
Nicole: Yeah, thank the odd gods we have a genius daughter.
Panel 6
Nicole leans a bit into Li's neck.
Nicole: Her smartest move was hiring Kimberly as her in-house hacker.
Li: Yeah, Kimberly finds exploits faster than anyone, so Steph's team can develop fixes before someone else can do any damage.
Panel 7
Nicole and Li both stand, with Li taking her hand.
Li: Well, the packers should be done by now. Shall we depart?
Nicole: You think I'm going to move half-way across the galaxy dressed like this?
Li: Why not? It will take less than an hour.
Panel 8
Hand in hand, they walk back towards the mansion.
Nicole: I don't go anywhere without my Sun-Shooter jacket, you know that.
Li: That's why I told the packers to leave it out with your anysuit.
Nicole: You're a wise man, Li. That's why I love you.
Li: I love you too, darling.