Quantum Vibe: Château Périlleux Now On KIndle & DriveThru [ Nov 2, 2020 ]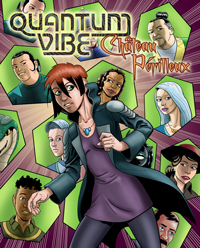 The hiatus is over, but now's still a good time to go back and read the previous volume of QUANTUM VIBE: Château Périlleux. Now available in digital format on Kindle and Drive Thru Comics!
QUANTUM VIBE: Château Périlleux asks how does a society without a formal government deal with crime and criminal conspiracies? In the far-future space-city known as Bubbleopolis, they do it with a mixture of wit, grit, and a culture based on rolling up one's sleeves and doing what must be done. Diana Martelli, a recent arrival, likes to call it compassionate individualism. And speaking of, young Diana is tasked with finding out who killed a supposedly un-killable android -- and uncovers a conspiracy which shakes the very foundations of the city and its culture.
As a bonus, we've added sixteen pages of "The Trial", a supplement to "Château Périlleux" which was not included in the printed version. Enjoy!
Please help Scott keep QUANTUM VIBE alive!
Buy our books:

Become a subscriber or patron
Transcript For Strip 121
Panel 1
Exterior view, the space-schooner Spanish Wells is rocketing away from Mercury.
Nicole (from the ship): This is some ride you found for us, Seamus.
Panel 2
Aboard the schooner, Nicole and Seamus are strapped into acceleration couches. Seamus is sort of over-flowing his. The surroundings are very utilitarian, both passengers look uncomfortable.
Seamus: There being no commercial liner available at this time, I took what I could find.
Panel 3
Closer 2-shot on Nicole and Seamus.
Nicole: We're not going to be boosting at 20 gravs the whole trip, are we?
Seamus: Thankfully, no ...
Panel 4
The two of them suddenly look relieved, as if a weight has been lifted from them.
Seamus: The Captain said this would only be for the first hour, to build up some speed, then ...
Seamus: Ah! Much better.
Panel 5
Captain Pinder appears in a hatchway near Nicole and Seamus. Pinder is slender, with a weathered face and a large, somewhat bulbous nose. Nicole is unstrapping herself from the couch.
Pinder: Ha! Even six gravs feels pretty good to ya after a heavy boost, eh?

Panel 6
Nicole is now standing next to her couch. Pinder is in the frame, looking at her appreciatively.
Seamus: Better, although I'll still have some difficulty getting around, in my condition.
Nicole: Guess I'll be doing food service for you.

Panel 7
Pinder busts out laughing.
Pinder: Ha-ha! You can bring him his food, but are ya gonna take it away when he's done with it?
Pinder: – And clean up for him?

Panel 8
Nicole is looking really grossed-out, but Seamus seeks to re-assure her.
Seamus: It's okay, Nicole. I didn't hire you to be my nurse, and I can still take care of some things myself.