Quantum Vibe: Château Périlleux Now On KIndle & DriveThru [ Nov 2, 2020 ]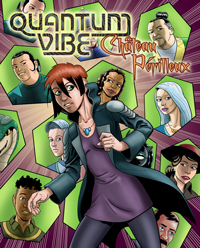 The hiatus is over, but now's still a good time to go back and read the previous volume of QUANTUM VIBE: Château Périlleux. Now available in digital format on Kindle and Drive Thru Comics!
QUANTUM VIBE: Château Périlleux asks how does a society without a formal government deal with crime and criminal conspiracies? In the far-future space-city known as Bubbleopolis, they do it with a mixture of wit, grit, and a culture based on rolling up one's sleeves and doing what must be done. Diana Martelli, a recent arrival, likes to call it compassionate individualism. And speaking of, young Diana is tasked with finding out who killed a supposedly un-killable android -- and uncovers a conspiracy which shakes the very foundations of the city and its culture.
As a bonus, we've added sixteen pages of "The Trial", a supplement to "Château Périlleux" which was not included in the printed version. Enjoy!
Please help Scott keep QUANTUM VIBE alive!
Buy our books:

Become a subscriber or patron
Transcript For Strip 126
Panel 1
Still in the corridor intersection, Abdi takes leave of Nicole and Hitomi.
Abdi: Hitomi, if you're not busy, would you mind finishing Ms Oresme's tour?
Abdi: Captain Pinder has just called me to the control deck.
Hitomi: Certainly.
Panel 2
Hitomi and Nicole continue down a corridor.
Nicole: So … what is your status here? Are you free-contract? Are you property?
Hitomi: Would you ask that question of anyone else in this crew, Ms Oresme?
Panel 3
A bit embarrassed, Nicole follows Hitomi up a spiral stair-shaft
Nicole: Oh! Well, not unless human chattel slavery has been revived. And, it's Nicole.
Hitomi: Ah, well, it happens that such does exist, in certain parts of the system, Nicole.
Panel 4
Hitomi leads Nicole through a hatchway.
Hitomi: But to answer your question, I was once property, but now I am free.
Hitomi: I met Captain Pinder five years ago, on Huoxing.

Panel 5
The two enter a broad room with a very large, wide observation window. A few chairs and small tables give the room a lounge quality.
Hitomi: This is our observation lounge. I love to sit here sometimes and meditate on the stars.
Nicole: So what happened when you met Pinder?

Panel 6
Looking at Hitomi and Nicole from outside the ship, through the observation window.
Hitomi: We worked out a deal – he purchased me from my former owner, then took me off-world and manumitted me.
Nicole: Just like that?
Panel 7
Close-up of Hitomi.
Hitomi: I promised to work for him and his crew – doing what I do best, for three standard years.
Hitomi: Then I could go where I like.

Panel 8e
Two-shot of Nicole and Hitomi – Nicole looks a bit dubious.
Nicole: Three years … but you said that was five years ago?
Hitomi: I chose to remain – I now have an at-will contract and am paid a share just like the other crew-members.