Quantum Vibe: Château Périlleux Now On KIndle & DriveThru [ Nov 2, 2020 ]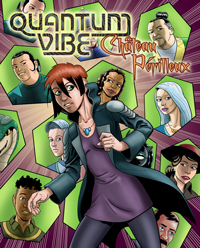 The hiatus is over, but now's still a good time to go back and read the previous volume of QUANTUM VIBE: Château Périlleux. Now available in digital format on Kindle and Drive Thru Comics!
QUANTUM VIBE: Château Périlleux asks how does a society without a formal government deal with crime and criminal conspiracies? In the far-future space-city known as Bubbleopolis, they do it with a mixture of wit, grit, and a culture based on rolling up one's sleeves and doing what must be done. Diana Martelli, a recent arrival, likes to call it compassionate individualism. And speaking of, young Diana is tasked with finding out who killed a supposedly un-killable android -- and uncovers a conspiracy which shakes the very foundations of the city and its culture.
As a bonus, we've added sixteen pages of "The Trial", a supplement to "Château Périlleux" which was not included in the printed version. Enjoy!
Please help Scott keep QUANTUM VIBE alive!
Buy our books:

Become a subscriber or patron
Transcript For Strip 1535
Panel 1
Let's see the exterior of the colony administration building again.
PP (from building): So you say you want to help us, but you won't share your technology?
PP: What exactly are you proposing?
Panel 2
In the conference room, PP, Murphy, Hugo, Eithne, plus the guards and the secretary.
Murphy: Well, we are experts at scouting, so ...
Murphy: We propose to explore the unexplored portion of your galaxy, and find the source of these CUSH raiders.
Murphy: We'll report whatever we find back to your government.
Panel 3
PP, Murphy and Hugo. Hugo is doing a slow burn.
PP: But if the CUSH domain is yet beyond our reach, how ...
Murphy: We might also deduce the nature of their star-drive tech, which is likely faster than yours but slower than ours.
Murphy: Sharing that information with you will not endanger our home-space.
Panel 4
Focus on PP, with her arms crossed. Her guards loom large behind her, looking menacingly towards Murphy et al.
PP: I see.
PP: I'm sorry, but your proposal is not acceptable. We need your technology.
PP: Therefore I'm placing you under arrest, and demand the surrender of your ship.
Panel 5
Murphy, Hugo, Eithne. All exchanging glances.
Murphy (thoughtsend): Time to go.
Hugo (thoughsend): Agreed.
Panel 6
Murphy and Hugo disappear, but Eithne yelps in pain, clutching her stomach.
SFX: Foomp!
SFX: Foomp!
Eithne: Aauugh!!!