Quantum Vibe: Château Périlleux Now On KIndle & DriveThru [ Nov 2, 2020 ]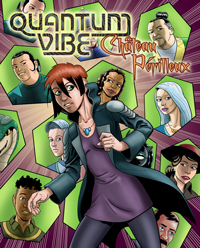 The hiatus is over, but now's still a good time to go back and read the previous volume of QUANTUM VIBE: Château Périlleux. Now available in digital format on Kindle and Drive Thru Comics!
QUANTUM VIBE: Château Périlleux asks how does a society without a formal government deal with crime and criminal conspiracies? In the far-future space-city known as Bubbleopolis, they do it with a mixture of wit, grit, and a culture based on rolling up one's sleeves and doing what must be done. Diana Martelli, a recent arrival, likes to call it compassionate individualism. And speaking of, young Diana is tasked with finding out who killed a supposedly un-killable android -- and uncovers a conspiracy which shakes the very foundations of the city and its culture.
As a bonus, we've added sixteen pages of "The Trial", a supplement to "Château Périlleux" which was not included in the printed version. Enjoy!
Please help Scott keep QUANTUM VIBE alive!
Buy our books:

Become a subscriber or patron
Transcript For Strip 161
Panel 1
Seamus and Nicole riding the same elevator they were in shortly after they first arrived at Ishtar Station. They are both looking tired.
Caption: A few uneventful hours later, back at Ishtar Station:
Seamus: Now, for a good 8 hours' rest and we can prepare to meet your mother at Pellucidar.
Nicole: ...
Panel 2
Closer 2-shot of Seamus and Nicole.
Seamus: Is there a problem?
Nicole: I'm not sure now that I should take you to meet Mother.

Panel 3
The two emerge from the lift into a busy concourse. Seamus is expressing a mix of surprise and mild grief. Nicole looks a bit grim.
Seamus: I beg your pardon?
Seamus: I promise to shower and put on a clean mu-mu.
Panel 4
Seamus and Nicole walk down a corridor.
Nicole: It's not your body odor – which is surprisingly inoffensive, given, well, given the circumstances.
Seamus: Well, that's a relief.
Panel 5
The two approach the entrance to their hotel, the Óstán O'Siodhachain .
Nicole: Maybe it's not your fault, but you attract danger, Seamus.
Nicole: And I don't want to expose my mother to that.

Panel 6
Seamus and Nicole make their way through the hotel lobby. Nicole is looking exasperated.
Seamus: Are you serious?
Nicole: Am I serious? Seamus, first someone tried to kill us on Mercury, and just a few hours ago we were nearly shanghaied by East Terrans, according to your speculation.
Panel 7
Seamus and Nicole walking down a hotel corridor, approaching their rooms.
Seamus: Nicole, believe me, your mother would not be endangered by meeting us.
Nicole: Huh.

Panel 8
At the door to Nicole's room, she's standing just inside the doorway, facing Seamus who is still in the corridor.
Seamus: Let's continue this discussion in the morning when we're both refreshed, eh?
Nicole: All right, Seamus. Good night.