Quantum Vibe: Château Périlleux Now On KIndle & DriveThru [ Nov 2, 2020 ]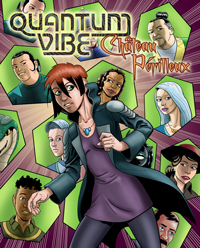 The hiatus is over, but now's still a good time to go back and read the previous volume of QUANTUM VIBE: Château Périlleux. Now available in digital format on Kindle and Drive Thru Comics!
QUANTUM VIBE: Château Périlleux asks how does a society without a formal government deal with crime and criminal conspiracies? In the far-future space-city known as Bubbleopolis, they do it with a mixture of wit, grit, and a culture based on rolling up one's sleeves and doing what must be done. Diana Martelli, a recent arrival, likes to call it compassionate individualism. And speaking of, young Diana is tasked with finding out who killed a supposedly un-killable android -- and uncovers a conspiracy which shakes the very foundations of the city and its culture.
As a bonus, we've added sixteen pages of "The Trial", a supplement to "Château Périlleux" which was not included in the printed version. Enjoy!
Please help Scott keep QUANTUM VIBE alive!
Buy our books:

Become a subscriber or patron
Transcript For Strip 1732
Panel 1
Diana's bedroom, Diana is in the bed, all tangled up in sheets and pillows in a comically odd position. Hair looks like a rat's nest. One bleary eye has popped open.
Caption: I always try to sleep-in on quintas, but I can't seem to manage it.
Caption: My cortical implant knows what time it is, and some part of me feels, I dunno, guilty if I'm not doing something useful.
Panel 2
Diana in the shower stall. Waist-up, nude. She's washing her hair as the water sprays on head, neck, shoulders.
Caption: First useful thing, after morning ablutions, is refilling my larder.
Caption: It was a challenge, finding a place with a shower stall. Most people here seem to like those 'clean screens' that you just step through. It's certainly faster.
Caption: But one of the more difficult things I had to learn, living here, is the right way to buy groceries.
Panel 3
Now dressed for the day, Diana sits in a breakfast nook, eating from a small plate, coffee mug at hand. She's gazing at a small holo-screen facing her from the opposite side of the table.
Caption: Like, don't shop when you're hungry. You waste your money on junk. So, eat something first.
Caption: And do your homework. Know what foods you need, and where to get the best quality for the price. This changes frequently, so it pays to check the anuncios before heading out.
Panel 4
Diana heading out her apartment door. She has her coat on and is picking up her flycar-briefcase.
Caption: Where I came from, the 'bots selected your food for you, and delivered it every few days. Scientifically-balanced nutrition, no human effort, or thought, required.
Caption: They also added a drug that made most people docile and stupid, so I guess even free groceries have a price.