Quantum Vibe: Château Périlleux Now On KIndle & DriveThru [ Nov 2, 2020 ]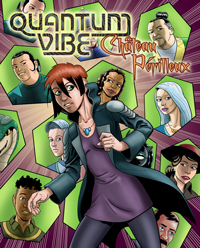 The hiatus is over, but now's still a good time to go back and read the previous volume of QUANTUM VIBE: Château Périlleux. Now available in digital format on Kindle and Drive Thru Comics!
QUANTUM VIBE: Château Périlleux asks how does a society without a formal government deal with crime and criminal conspiracies? In the far-future space-city known as Bubbleopolis, they do it with a mixture of wit, grit, and a culture based on rolling up one's sleeves and doing what must be done. Diana Martelli, a recent arrival, likes to call it compassionate individualism. And speaking of, young Diana is tasked with finding out who killed a supposedly un-killable android -- and uncovers a conspiracy which shakes the very foundations of the city and its culture.
As a bonus, we've added sixteen pages of "The Trial", a supplement to "Château Périlleux" which was not included in the printed version. Enjoy!
Please help Scott keep QUANTUM VIBE alive!
Buy our books:

Become a subscriber or patron
Transcript For Strip 1815
Panel 1
On a holoscreen, we see the image of Byron Tchaikovsky, a foppish streamer, mugging for the camera. The background is filled with the trademark 'BYRON' logo.

Byron: Good day, good day, my darlings! I'm Byron Tchaikovsky and I question everything!
Byron: Our question today is, has the venerable Smith & Holder Assurance agency gone off the rails? Jumped the shark? Lost its cool?
Panel 2
Byron is on the left side of the frame, filling the rest is an image of Diana as she was being medically treated at deClayre's mansion. She is naked under a sheet, her right arm laid bare to show the horrible broken fore-arm.

Byron: One of its agents, who we have recently identified, viciously assaulted a young refugee, Diana Martelli, while confronting her at her job.
Panel 3
On a broadcast set, we now see Byron seated in a tall chair next to Lorelei, also seated in a tall chair. Lorelei has been dolled up to look younger than before. The chairs are on a slightly raised platform.
Byron: She was able to flee the agent and found refuge with none other than Lorelei Wodenstar deClayre, who has become the girl's protector.
Caption: The way Bostwick dolled Lorelei up, she looked closer to 20 than 240.
Panel 4
Pull back farther to include a very uncomfortable-looking Diana sitting on another tall chair on the right of Lorelei. Her hair is waxed down, and her clothing makes her look like a tall 12-year-old.
Byron: Today we have Senhora deClayre with us in studio, and also the young Diana Martelli herself! May I call you Diana?
Diana: Uh, sure.
Caption: What that little fucker did to me, I will never forgive.