Quantum Vibe: Château Périlleux Now On KIndle & DriveThru [ Nov 2, 2020 ]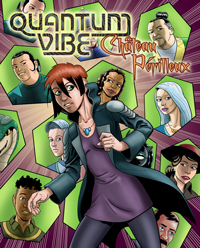 The hiatus is over, but now's still a good time to go back and read the previous volume of QUANTUM VIBE: Château Périlleux. Now available in digital format on Kindle and Drive Thru Comics!
QUANTUM VIBE: Château Périlleux asks how does a society without a formal government deal with crime and criminal conspiracies? In the far-future space-city known as Bubbleopolis, they do it with a mixture of wit, grit, and a culture based on rolling up one's sleeves and doing what must be done. Diana Martelli, a recent arrival, likes to call it compassionate individualism. And speaking of, young Diana is tasked with finding out who killed a supposedly un-killable android -- and uncovers a conspiracy which shakes the very foundations of the city and its culture.
As a bonus, we've added sixteen pages of "The Trial", a supplement to "Château Périlleux" which was not included in the printed version. Enjoy!
Please help Scott keep QUANTUM VIBE alive!
Buy our books:

Become a subscriber or patron
Transcript For Strip 1817
Panel 1
Camera three-shot of Byron, Lorelei and Diana, focus on Byron, anxious to regain the narrative.
Byron: Well, beltape issues are a topic for another show.
Byron: Now, Diana has been under virtual house-arrest at Lorelei's home because Smith&Holder are still pursuing her, as a 'person of interest' in the disappearance of Juan Gómez, the private investigator she works for.
Byron: Even after Gómez has recently re-appeared, albeit a bit worse for wear, I should say.
Panel 2
Diana makes her plea as the others look on.
Diana: Juan is not just my employer, he's my mentor and my friend.
Diana: Now he's in the médico but I don't know what condition he's in and I can't visit him without getting grabbed and maybe thrown in a cage with that bone-breaking, uh, agent.
Diana: And my home was wrecked and all S&H cares about is where I spent the night.
Panel 3
Byron and Diana as Lorelei looks on. Byron is making a signaling gesture with one hand.
Byron: But you've told us you're willing to step forward and resolve this, yes?
Diana: That's right, Byron. I want to present myself before the agency and answer their questions truthfully.
Byron: And there's no time like the present, right?
Panel 4
Medium shot of the trio, still on their chairs (and on the platform), now on a plaza in front of an imposing structure with the sign, 'Smith & Holder Resolutions' engraved over the entrance. Byron is whooping it up. There are three floating camera-bots, recording them, and three figures – Dong Gyeon-Hoon, Areum, and another rather stout female dressed similarly to Areum, standing by.
Byron: I daresay, huzzah, y'all!