Quantum Vibe: Château Périlleux Now On KIndle & DriveThru [ Nov 2, 2020 ]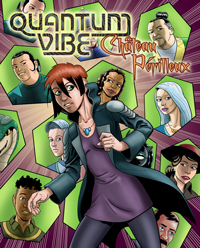 The hiatus is over, but now's still a good time to go back and read the previous volume of QUANTUM VIBE: Château Périlleux. Now available in digital format on Kindle and Drive Thru Comics!
QUANTUM VIBE: Château Périlleux asks how does a society without a formal government deal with crime and criminal conspiracies? In the far-future space-city known as Bubbleopolis, they do it with a mixture of wit, grit, and a culture based on rolling up one's sleeves and doing what must be done. Diana Martelli, a recent arrival, likes to call it compassionate individualism. And speaking of, young Diana is tasked with finding out who killed a supposedly un-killable android -- and uncovers a conspiracy which shakes the very foundations of the city and its culture.
As a bonus, we've added sixteen pages of "The Trial", a supplement to "Château Périlleux" which was not included in the printed version. Enjoy!
Please help Scott keep QUANTUM VIBE alive!
Buy our books:

Become a subscriber or patron
Transcript For Strip 1818
Panel 1
Pull back to show the entire S&H headquarters building. An imposing sim-granite structure surrounded by a tree-lined promenade on the outskirts of which are several smaller buildings.

Caption: I'd known we'd be taking a hopper to the Smith & Holder headquarters but I didn't know Byron's video set itself was the hopper.
Caption: That little surprise, combined with Lorelei's newly-revealed agenda, was making me feel manipulated. And I didn't like that one bit.
Panel 2
Lorelei, Diana and Byron greet Dong, Areum, and the new girl as they all stand near the hopper/set, in front of the S&H building. The floating cameras surround them. Diana is doing introductions.

Diana: Byron and Lorelei, these are my friends Dong Gyeon-Hoon, his neice Areum, and, uh … I don't know this other woman.
Dong: She is my other neice, Wook. We are honored to make your acquaintance.
Byron: Charmed, I'm sure.
Panel 3
Lorelei, Byron, Dong, Diana, Areum, Wook. The Koreans are flanking Diana protectively.
Lorelei: So, what's your plan? Do we go inside?
Byron: Oh heavens, no. They won't let me bring my cameras inside.
Byron: We wait for them to come out to us.
Panel 4
Looking from behind Byron & co., we see a phalanx of uniformed S&H agents approaching from the building.
Lorelei: Looks like we won't have to wait long.
Byron: Relax and follow my lead.
Diana: Can we go back? I just remembered I need to wash my hair.
Areum: Again?