Quantum Vibe: Château Périlleux Now On KIndle & DriveThru [ Nov 2, 2020 ]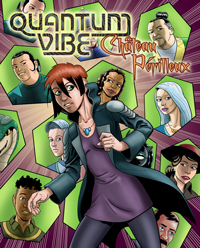 The hiatus is over, but now's still a good time to go back and read the previous volume of QUANTUM VIBE: Château Périlleux. Now available in digital format on Kindle and Drive Thru Comics!
QUANTUM VIBE: Château Périlleux asks how does a society without a formal government deal with crime and criminal conspiracies? In the far-future space-city known as Bubbleopolis, they do it with a mixture of wit, grit, and a culture based on rolling up one's sleeves and doing what must be done. Diana Martelli, a recent arrival, likes to call it compassionate individualism. And speaking of, young Diana is tasked with finding out who killed a supposedly un-killable android -- and uncovers a conspiracy which shakes the very foundations of the city and its culture.
As a bonus, we've added sixteen pages of "The Trial", a supplement to "Château Périlleux" which was not included in the printed version. Enjoy!
Please help Scott keep QUANTUM VIBE alive!
Buy our books:

Become a subscriber or patron
Transcript For Strip 1819
Panel 1
Lorelei and Byron stand together in front, with Diana and her guards behind, facing twelve Agents, one (Agent Cooper) in front, two behind him, the remainder in a line behind the first three.
Byron: Good day sirrah! I am Byron Tschaikowski, mega-streamer, with Lorelei Wodenstar deClayre, one of the five ...
Agent Cooper: I know who you are. My name is Chief Inspector Sergio Cooper.
Agent Cooper: We wish to question Senhora Diana Martelli.
Panel 2
Looking from behind Cooper, Lorelei and Byron step aside and present Diana, standing forthrightly in her silly costume.
Lorelei: Since you asked so politely, here she is, ready to talk to you.
Byron: Provided of course that the conversation be right here, with witnesses, and recorded.
Panel 3
Byron and Cooper go chin-to-chin.
Cooper: Unacceptable! The questioning may involve … sensitive information!
Byron: Well, I certainly hope so!
Cooper: In light of what happened to our client, Sr. Gómez, we might be justified in taking all three of you into custody.
Panel 4
Pull back again to include all of Diana's party, facing Cooper and his two lieutenants. The two lieutenants are exchanging glances .
Diana: In light of what happened to me, there is no feeking way I'm going to let you get me in a room alone.
Lorelei: No doubt your executives are viewing this stream right now. Along with a million clients.
Byron: How do you think they want to see Smith & Holder represented?