Quantum Vibe: Château Périlleux Now On KIndle & DriveThru [ Nov 2, 2020 ]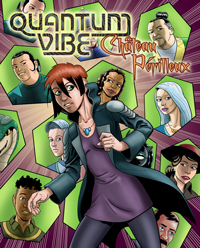 The hiatus is over, but now's still a good time to go back and read the previous volume of QUANTUM VIBE: Château Périlleux. Now available in digital format on Kindle and Drive Thru Comics!
QUANTUM VIBE: Château Périlleux asks how does a society without a formal government deal with crime and criminal conspiracies? In the far-future space-city known as Bubbleopolis, they do it with a mixture of wit, grit, and a culture based on rolling up one's sleeves and doing what must be done. Diana Martelli, a recent arrival, likes to call it compassionate individualism. And speaking of, young Diana is tasked with finding out who killed a supposedly un-killable android -- and uncovers a conspiracy which shakes the very foundations of the city and its culture.
As a bonus, we've added sixteen pages of "The Trial", a supplement to "Château Périlleux" which was not included in the printed version. Enjoy!
Please help Scott keep QUANTUM VIBE alive!
Buy our books:

Become a subscriber or patron
Transcript For Strip 1851
Panel 1
Diana (arm still in sling) looks on as The Mechanic and a couple of her underlings work on the Super-flyer, which is suspended above the floor on a simple lift-rack. Dong is also standing by, watching.
Caption: After that, I was treated warmly, as if by letting them cut my arm open I passed some sort of initiation.
Caption: The Mechanic and her helpers scoured the Super-flyer, removing bits and adding other bits in, as Gyeon-Hoon ordered.
Panel 2
In a workman's-type lounge, Diana is in a happily animated conversation with one of the characters that was pointing weapons at her previously.
Caption: Turns out one of her security guys … called himself 'Grendel' … was also a fan of The Screaming Bosons, one of my favorite dance bands.
Caption: Grendel said he was a roady for them once, years ago. He told some hilarious stories of their wacky hijinks.
Panel 3
The Super-flyer is back on its wheels again. One of the flunkies is pointing out something something on the dashboard to Areum. Diana is getting a farewell hug from The Mechanic.
Caption: Finally, all the modifications were complete.
Caption: My arm was still healing, but we needed to be on our way.
Panel 4
Diana is in her usual seat in the Super-flyer as it rises from the garage floor. Angled view so we see Diana in the flyer and also The Mechanic, her Assistant, and Grendel, and the two flunkies standing on the floor and waving good-bye.
Caption: What strange, wonderful people, living in the dark underbelly of the City.
Caption: I didn't know when I'd see any of them again, but I had a gut feeling that I would, someday.