Quantum Vibe: Château Périlleux Now On KIndle & DriveThru [ Nov 2, 2020 ]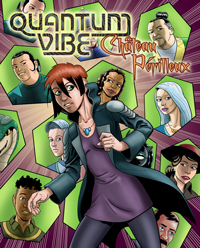 The hiatus is over, but now's still a good time to go back and read the previous volume of QUANTUM VIBE: Château Périlleux. Now available in digital format on Kindle and Drive Thru Comics!
QUANTUM VIBE: Château Périlleux asks how does a society without a formal government deal with crime and criminal conspiracies? In the far-future space-city known as Bubbleopolis, they do it with a mixture of wit, grit, and a culture based on rolling up one's sleeves and doing what must be done. Diana Martelli, a recent arrival, likes to call it compassionate individualism. And speaking of, young Diana is tasked with finding out who killed a supposedly un-killable android -- and uncovers a conspiracy which shakes the very foundations of the city and its culture.
As a bonus, we've added sixteen pages of "The Trial", a supplement to "Château Périlleux" which was not included in the printed version. Enjoy!
Please help Scott keep QUANTUM VIBE alive!
Buy our books:

Become a subscriber or patron
Transcript For Strip 191
Panel 1
In the encounter room at Dalliances, Seamus and Nicole continue their ultra-private conference.
Nicole: I hope you brought us in here for more than a history lesson, Seamus.
Seamus: Quite so. I was merely establishing the context for my purpose.
Panel 2
Medium shot on Seamus.
Seamus: It is my theory that humans flourish best when they have frontiers to explore and conquer.
Seamus: Keep us bottled up within boundaries long enough and our culture begins to rot and erode, and people become either ennervated or self-destructive.
Panel 3
Medium close-up on Nicole, looking dubious.
Nicole: I – I suppose so, but we still have plenty of unexplored places in the Solar System.
Nicole: Don't we?
Panel 4
Seamus, looking ominous.
Seamus: We have a few such places on the inhospitable fringes, and your mother's Venusian terraforming project may well give us one more interesting place to build upon.
Seamus: But the rot has already set in.
Panel 5
Seamus and Nicole.
Seamus: Luna was once much like L-5 City is now, but, well, you'll see when we get there.
Nicole: Ok, so granted we need new frontiers, and the stars are probably out of our reach. What else is there?
Panel 6
Now Seamus smiles one of his enigmatic smiles.
Seamus: While we've been looking for new worlds across the canyons of intersteallar space, we have overlooked countless new worlds almost literally right around the corner.
Seamus: In alternate quantum universes.
Panel 7
Looking past Seamus at Nicole, Nicole rolls her eyes.
Nicole: Alternate universes? Oh, come on.
Nicole: David Deutsch proved way back in the First Century that we could never even detect them, much less cross the dimensional barrier.

Panel 8
Medium close-up on Seamus, looking determined.
Seamus: David Deutsch was brilliant. And, he was wrong.