Quantum Vibe: Château Périlleux Now On KIndle & DriveThru [ Nov 2, 2020 ]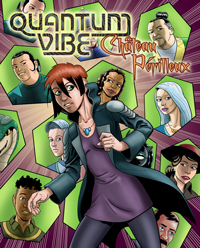 The hiatus is over, but now's still a good time to go back and read the previous volume of QUANTUM VIBE: Château Périlleux. Now available in digital format on Kindle and Drive Thru Comics!
QUANTUM VIBE: Château Périlleux asks how does a society without a formal government deal with crime and criminal conspiracies? In the far-future space-city known as Bubbleopolis, they do it with a mixture of wit, grit, and a culture based on rolling up one's sleeves and doing what must be done. Diana Martelli, a recent arrival, likes to call it compassionate individualism. And speaking of, young Diana is tasked with finding out who killed a supposedly un-killable android -- and uncovers a conspiracy which shakes the very foundations of the city and its culture.
As a bonus, we've added sixteen pages of "The Trial", a supplement to "Château Périlleux" which was not included in the printed version. Enjoy!
Please help Scott keep QUANTUM VIBE alive!
Buy our books:

Become a subscriber or patron
Transcript For Strip 1996
Panel 1
Background switches to show the arbitrators: Andrews, Sandini, Feingold. Andrews looks completely laid back, maybe playing with a yo-yo. Sandini is all solemn. Feingold looks bored.
Bok (in cameo): De Castries and Roaz agreed for three of the most celebrated Arbiters in the city to render decisions: Harcourt Andrews, Wilson Sandini, and Jed Feingold.
Andrews: … so, we've reviewed the petitions and agreed to consolidate the various cases into Roaz et al vs de Castries et al.
Sandini: So mote it be.
Feingold: Let's get on with this.
Panel 2
Bok narrates from a cameo as de Castries' advogado, Abraham Miller, addresses the bench. Miller is a 'Tin Man,' an android with the memories and personality of a once-living human.
Bok: De Castries and company were represented by the highly-respected Advogado, Abraham Miller.
Miller: Alyss Roaz has unleashed an outrageous wave of violent assaults culminating in the vicious attack on de Castries' domain resulting in 27 casualties, with two requiring resurrections.
Miller: Also, an estimated 15.72 kilomoebits in property damage.
Panel 3
Miller continues. We can see Diana in the background, looking at him with an icy glare.
Miller: As a cover for her scheme, Roaz contracted with this young, inexperienced, so-called 'investigator,' to snoop around sowing discord and suspicion against a respectable beneficencia, Républicains Pour La Démocracie.
Miller: But don't let that sweet young face fool you … this woman is a vicious killer.
Panel 4
Miller jabs a finger for emphasis at Alyss, sitting at the defendants' table with Sergio and Diana and Montoya. Alyss mutters something.
Miller: But Senhora Martelli's crimes pail in comparison with her employers'. This illustrious founder of our city has become corrupted with power!
Miller: She thinks she can just trample over anyone who gets in her way!
Alyss (soto voce): Can't help it I got big feet.