Quantum Vibe: Château Périlleux Now On KIndle & DriveThru [ Nov 2, 2020 ]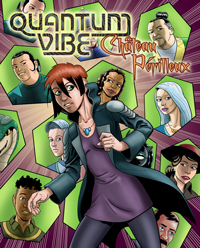 The hiatus is over, but now's still a good time to go back and read the previous volume of QUANTUM VIBE: Château Périlleux. Now available in digital format on Kindle and Drive Thru Comics!
QUANTUM VIBE: Château Périlleux asks how does a society without a formal government deal with crime and criminal conspiracies? In the far-future space-city known as Bubbleopolis, they do it with a mixture of wit, grit, and a culture based on rolling up one's sleeves and doing what must be done. Diana Martelli, a recent arrival, likes to call it compassionate individualism. And speaking of, young Diana is tasked with finding out who killed a supposedly un-killable android -- and uncovers a conspiracy which shakes the very foundations of the city and its culture.
As a bonus, we've added sixteen pages of "The Trial", a supplement to "Château Périlleux" which was not included in the printed version. Enjoy!
Please help Scott keep QUANTUM VIBE alive!
Buy our books:

Become a subscriber or patron
Transcript For Strip 2016
Panel 1
On Bok, full panel

Bok: And so the Arbs reviewed Diana's new evidence, as did Miller.
Bok: Over the three-day break they both asked Diana, through Montoya, for some clarifying details, which she provided through the same channel.
Bok: Finally, on the 4th of Nuntiary, 1071, the hearing reconvened, and the decisions rendered.
Panel 2
Re-establishing the scene … the Arbs at their bench, with the complainants and observers assembled.
Arb Andrews: Since council for De Castries, et al, have declined to rebut the additional evidence, we will proceed directly to our decisions.
Arb Sandini: Our primary concern must be the protection of life, liberty, and property from unjust infringements.
Arb Feingold: Our social order cannot endure on the basis of who can amass the greater personal army.
Panel 3
Angled shot on the Arbs.
Arb Andrews: While Senhoras Roaz and Martelli were at that time without a contracted defensive agency, Roaz still had the option of acting as her own agency and negotiating with Gianturco Guarantia, de Castries' agency, for a search .
Arb Feingold: She did not even seem to consider that option, but charged in with guns blazing.
Arb Sandini: Even a 'Pillar of Bubbleopolis' is subject to the same laws as everyone else.
Panel 4
On Diana and Alyss & friends, looking unhappy.
Arb Sandini: Still, the exigent circumstances are a mitigating factor.
Arb Sandini: Therefore we find that Roaz owes de Castries only for the damage to his building and costs incurred defending same. 19,000 Moebits.
Arb Sandini: Likewise, the agents of Gianturco Guarantia who sustained injuries defending that building are owed, collectively, 6,000 Moebits.