Quantum Vibe: Château Périlleux Now On KIndle & DriveThru [ Nov 2, 2020 ]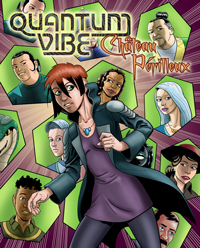 The hiatus is over, but now's still a good time to go back and read the previous volume of QUANTUM VIBE: Château Périlleux. Now available in digital format on Kindle and Drive Thru Comics!
QUANTUM VIBE: Château Périlleux asks how does a society without a formal government deal with crime and criminal conspiracies? In the far-future space-city known as Bubbleopolis, they do it with a mixture of wit, grit, and a culture based on rolling up one's sleeves and doing what must be done. Diana Martelli, a recent arrival, likes to call it compassionate individualism. And speaking of, young Diana is tasked with finding out who killed a supposedly un-killable android -- and uncovers a conspiracy which shakes the very foundations of the city and its culture.
As a bonus, we've added sixteen pages of "The Trial", a supplement to "Château Périlleux" which was not included in the printed version. Enjoy!
Please help Scott keep QUANTUM VIBE alive!
Buy our books:

Become a subscriber or patron
Transcript For Strip 2019
Panel 1
At a bar/lounge in Bubbleopolis. Overhead shot of Bok, Zander and Otto, all about 5 years older than when we last saw them, are seated around a small table, drinking beer. A few other patrons are in evidence.

Caption: The Blue Goose Pub, Bubbleopolis. 11 Septiary 1076
Bok: Yeah, then she said I was too wrapped up in my work for things to work out, and she dumped me.
Zander: That sucks, Bok. So, how's your love life, Otto?
Otto: Can we change the subject?

Panel 2
Closer 3-shot on Bok, Zander, Otto.

Bok: Don't tell me you're still hung up on Diana.
Zander: 'Still?' How long has it been?
Otto: A bit more than a year. I finally got her to agree to a date, but ...

Panel 3
Similar shot
Bok (to Zander): Zander, she totally cold-fished him.
Zander: Wow. I'm sorry I asked.
Otto: She's in love with that damn house! How can I compete with a house?
Zander: I dunno, get a bigger house?

Panel 4
Similar shot
Bok: It's not the structure. It's Monty, the A.I. the house, uh, houses.
Bok: He's also a Puma, a Panda, a Python, a Porcupine, and a really well-put-together android.
Zander: You're not competing with a house, you're competing with a menagerie.