Quantum Vibe: Château Périlleux Now On KIndle & DriveThru [ Nov 2, 2020 ]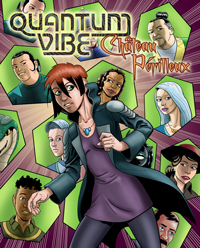 The hiatus is over, but now's still a good time to go back and read the previous volume of QUANTUM VIBE: Château Périlleux. Now available in digital format on Kindle and Drive Thru Comics!
QUANTUM VIBE: Château Périlleux asks how does a society without a formal government deal with crime and criminal conspiracies? In the far-future space-city known as Bubbleopolis, they do it with a mixture of wit, grit, and a culture based on rolling up one's sleeves and doing what must be done. Diana Martelli, a recent arrival, likes to call it compassionate individualism. And speaking of, young Diana is tasked with finding out who killed a supposedly un-killable android -- and uncovers a conspiracy which shakes the very foundations of the city and its culture.
As a bonus, we've added sixteen pages of "The Trial", a supplement to "Château Périlleux" which was not included in the printed version. Enjoy!
Please help Scott keep QUANTUM VIBE alive!
Buy our books:

Become a subscriber or patron
Transcript For Strip 2174
Panel 1
Exterior view of Bubbleopolis (Novo Paolo), showing the destroyed spheres being regrown.
Caption: The independent space-city Novo Paolo is better-known as 'Bubbleopolis,' for obvious reasons.
Caption: Two cycles earlier, it had suffered a devastating attack from a massive, relativistic missile, destroying five of its 'bubbles.' (Although the locals call them 'spheres.')

Panel 2
Let's take a closer look at how spheres are grown. A large machine is 'inflating' a sphere much as one would blow a bubble-gum bubble.
Caption: These Borvonite spheres are not constructed, but grown, in a manner not entirely unlike glass-blowing.
Caption: When the sphere is grown to its full 50 km size, it already contains breathable air. All that's left is to move buildings and people into it, accomplished via Discontinuous Displacement Engine.

Panel 3
Cut to an interior scene with Alyss Roaz, Murphy, and Hugo Galvéz watching a monitor showing the sphere-growing.
Caption: The Displacement Engine was the brainchild of these three: Alyss Roaz, Murphy, and Hugo Galvéz.
Caption: Their brainchild allows people and objects to move to the next room, or halfway across the universe, discontinuously. Like every technology, it has benefits and drawbacks.
Panel 4
Lorelei deCleyre literally 'pops' in (via Displacer of course).
SFX: POP
Lorelei: Hey! How's the reconstruction going?
Alyss, Murphy, Hugo in unison: Gaaahh!!!