Quantum Vibe: Château Périlleux Now On KIndle & DriveThru [ Nov 2, 2020 ]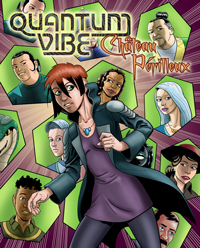 The hiatus is over, but now's still a good time to go back and read the previous volume of QUANTUM VIBE: Château Périlleux. Now available in digital format on Kindle and Drive Thru Comics!
QUANTUM VIBE: Château Périlleux asks how does a society without a formal government deal with crime and criminal conspiracies? In the far-future space-city known as Bubbleopolis, they do it with a mixture of wit, grit, and a culture based on rolling up one's sleeves and doing what must be done. Diana Martelli, a recent arrival, likes to call it compassionate individualism. And speaking of, young Diana is tasked with finding out who killed a supposedly un-killable android -- and uncovers a conspiracy which shakes the very foundations of the city and its culture.
As a bonus, we've added sixteen pages of "The Trial", a supplement to "Château Périlleux" which was not included in the printed version. Enjoy!
Please help Scott keep QUANTUM VIBE alive!
Buy our books:

Become a subscriber or patron
Transcript For Strip 2193
Panel 1
Mordy, who is making a placating gesture, and Enrique, with his arms crossed.
Mordy: My apologies to all, I was not aware it would be a problem.
Mordy: For I assure you, this secrecy is to your benefit as well as mine.
Enrique: How so?

Panel 2
Shift a bit to also show Jorge, cocking one eyebrow.
Mordy: Look, we're all adults here, yes?
Mordy: We have our respective roles to play.
Mordy: Your role is, guardians of Novo Paolo's independence.
Panel 3
Show Jorge, Kofi and Lorelei reacting somewhat incredulously to Mordy, speaking OP.
Mordy (OP): My role is facilitator of Novo Paolo's joining the Intergalactic Confederation, adding your distinctiveness and resources to our own.
Mordy: Oh yes, this is going to happen, sooner or later, whether I succeed or fail here.

Panel 4
Looking past Alyss at Mordy, who is in frame now.
Mordy: The question is, how will you fare in the transition?
Mordy: You see, I can arrange things so that in the new order, you will remain in charge of the city, under OUR laws.
Mordy: Which really aren't bad once you get used to them.