Quantum Vibe: Château Périlleux Now On KIndle & DriveThru [ Nov 2, 2020 ]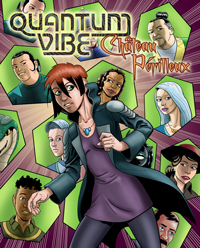 The hiatus is over, but now's still a good time to go back and read the previous volume of QUANTUM VIBE: Château Périlleux. Now available in digital format on Kindle and Drive Thru Comics!
QUANTUM VIBE: Château Périlleux asks how does a society without a formal government deal with crime and criminal conspiracies? In the far-future space-city known as Bubbleopolis, they do it with a mixture of wit, grit, and a culture based on rolling up one's sleeves and doing what must be done. Diana Martelli, a recent arrival, likes to call it compassionate individualism. And speaking of, young Diana is tasked with finding out who killed a supposedly un-killable android -- and uncovers a conspiracy which shakes the very foundations of the city and its culture.
As a bonus, we've added sixteen pages of "The Trial", a supplement to "Château Périlleux" which was not included in the printed version. Enjoy!
Please help Scott keep QUANTUM VIBE alive!
Buy our books:

Become a subscriber or patron
Transcript For Strip 251
Panel 1
Still at the dinner table, but now the plates are cleared and Hari and his guests are having after-dinner drinks (Seamus is drinking coffee, Hari is drinking a vermouth, and Nicole is drinking a whisky, neat.
Hari: So, what's your schedule like? Staying on Luna long?
Seamus: One week.

Panel 2
Closer 2-shot of Hari and Seamus.
Hari: Planning some sight-seeing?
Seamus: Hardly. I have an appointment with Dr. Sharkisian tomorrow. He expects a 5-day course of treatment to get my endocrine system re-balanced.
Panel 3
Different two-shot of Hari and Seamus.
Hari: Glad you took my advice, to see him.
Seamus: Yes, well, it was helpful that you gathered the Damouiseau Station recordings for me.
Panel 4
Hari and Seamus. Hari smiles broadly.
Hari: Glad I could help. You shouldn't neglect your health, Seamus.
Hari: I intend to throw a lavish party for your 400th birthday, and you'd better be here for it.

Panel 5
Focus on Seamus. He has to think a moment about how old he is.
Seamus: That's not much incentive. You know I don't like big parties.
Seamus: Also, the way things are going I'm not sure Luna will be a safe place to visit in – ah -- 60 years.

Panel 6
Two-shot of Nicole and Hari, with a bit of Seamus in the frame.
Hari: And how shall the plucky young assistant be spending her week here?
Nicole: Oh, some shopping, some sight-seeing, some drinking. You know, plucky stuff.

Panel 7
Hari reaches out and lays his hand on Nicole's forearm. She doesn't withdraw immediately, but looks uncomfortable.
Hari: I'll be busy during daytimes, but in the evenings I can show you around, if you like.
Hari: I can get you an exclusive tour of the Davis caverns, of the Jones-Hardesty campus, of ...

Panel 8
Nicole pulls her arm away, not too forcefully, but unmistakably signaling her feelings.
Nicole: Thanks, Mr. Copperton, but no thanks.
Nicole: I – when I go exploring, I like to go solo. Less arguing that way.
Hari: Of course.