Quantum Vibe: Château Périlleux Now On KIndle & DriveThru [ Nov 2, 2020 ]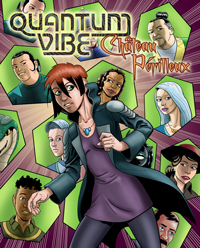 The hiatus is over, but now's still a good time to go back and read the previous volume of QUANTUM VIBE: Château Périlleux. Now available in digital format on Kindle and Drive Thru Comics!
QUANTUM VIBE: Château Périlleux asks how does a society without a formal government deal with crime and criminal conspiracies? In the far-future space-city known as Bubbleopolis, they do it with a mixture of wit, grit, and a culture based on rolling up one's sleeves and doing what must be done. Diana Martelli, a recent arrival, likes to call it compassionate individualism. And speaking of, young Diana is tasked with finding out who killed a supposedly un-killable android -- and uncovers a conspiracy which shakes the very foundations of the city and its culture.
As a bonus, we've added sixteen pages of "The Trial", a supplement to "Château Périlleux" which was not included in the printed version. Enjoy!
Please help Scott keep QUANTUM VIBE alive!
Buy our books:

Become a subscriber or patron
Transcript For Strip 377
Panel 1
Dr. Sharkisian and Seamus in Sharkisian's office.
Sharkisian: The next day's installment was delayed when the Freedomz Feenix node was knocked offline by a sophisticated cyber-attack.
Sharkisian: Two days later, the node was back up and this was their first vidcast:

Panel 2
Claud Southend's face in front of a new graphic reminiscent of the first, but Nicole is not smiling and the text reads, 'Nicole Oresme: Criminal or Victim?'
Claud: I DOAN KNOE HAO MUTCH TIEM ILL HAS BEFORE DIS NOAD IZ KNOCKD DOWN AGAIN, SO ILL BE CONCIZE ...

Panel 3
A new graphic behind Southend's face -- some file footage of Rando Greene.
Claud: WE HAS BEEN PROVIDD WIF SUM INFO DAT IZ BOTH EXPLOSIV AN CODE-VERIFID BY NONE OTHR THAN SMITH & HOLDR RESOLUSHUNS.
Claud: DIS AR TEH RANDO GREENE, SUPPOZEDLY FREE-LANZ PUBLICIST ...
Panel 4
Southend in front of a frame showing Greene and Nicole at the table in Club Leykis
Southend: RECORDZ SHOW CHEEZ SUSPECT NICOLE ORESME SPENT TEH EVENIN WIF GREENE SHORTLY BEFORE HER ARREST ...
Southend: ... YET TEH POLICE NEVR QUESHUND GREENE BOUT TEH CHEEZ FINDZ ON ORESMEZ PERSON, NOR BOUT HER CONTENSHUN HE ATTEMPTD 2 RAPE HER LATR DAT EVENIN.


Panel 5
Southend in front of the frame now showing Herberto Bustamante where Claud had confronted him previously.
Southend: DEN THARS TEH MATTR OV HERBERTO BUSTAMANTE.
Southend: BUSTAMANTE PRESENTD HIM AT ORESMEZ ARRAIGNMENT AS HER ATTORNEY, BUT SHE DECLARD HE WUZ NOT HOO HE CLAIMD 2 BE.
Panel 6
Medium close-up of Southend
Southend: BUSTAMANTE HAD CLAIMD HE HAD BEEN HIRD BY ORESMEZ ASSURANCE AGENCY, BUT IN FACT HE HAS NO TIEZ 2 DAT AGENCY, SMITH & HOLDR RESOLUSHUNS, AT ALL.

Panel 7
Now the graphic shows Rando in a circle linked to portraits in numerous other circles, most prominently Leroy, (labeled 'Leroy Hamilton, Former Police Chief') the 'Prosecutor Ursula Shroeder,' 'Judge Judith Neopolitan,' the 'Attorney Herberto Bustamante', the two cops who arrested Nicole ('Mike Weatherbee' and 'Carla Poblano'), the prison guard we've seen several times, and several others ranging from obvious thugs to well-groomed elite types.
Southend (voiceover): BUSTAMANTE IZ PART OV CLANDESTINE NETWORK COMPOSD OV LAW ENFORCERS, ATTORNEYS, AN KNOWN CRIMINALS, ALL LINKD 2 RANDO GREENE.

Panel 8
Two-shot of Seamus and Sharkisian, viewing the room screen. Seamus looks incredulous.
Seamus: This is sounding like a Gabrielle Lord novel.
Sharkisian: Gabrielle who?
Seamus: Long story.
Sharkisian: Anyway, it gets worse.