Quantum Vibe: Château Périlleux Now On KIndle & DriveThru [ Nov 2, 2020 ]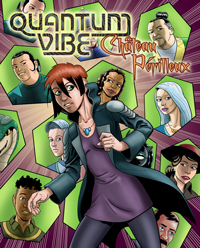 The hiatus is over, but now's still a good time to go back and read the previous volume of QUANTUM VIBE: Château Périlleux. Now available in digital format on Kindle and Drive Thru Comics!
QUANTUM VIBE: Château Périlleux asks how does a society without a formal government deal with crime and criminal conspiracies? In the far-future space-city known as Bubbleopolis, they do it with a mixture of wit, grit, and a culture based on rolling up one's sleeves and doing what must be done. Diana Martelli, a recent arrival, likes to call it compassionate individualism. And speaking of, young Diana is tasked with finding out who killed a supposedly un-killable android -- and uncovers a conspiracy which shakes the very foundations of the city and its culture.
As a bonus, we've added sixteen pages of "The Trial", a supplement to "Château Périlleux" which was not included in the printed version. Enjoy!
Please help Scott keep QUANTUM VIBE alive!
Buy our books:

Become a subscriber or patron
Transcript For Strip 382
Panel 1
Judge Antonio Neapolitan's office. Dark-colored walls and furniture festooned with commorative photos, a mounted ceremonial sword, and on the wall be hind a desk, a large screen showing various images in succession. The judge is seated behind his desk and the prosecutor Ursula Schroeder and Nicole's attorney George Ringo stand before him.
Caption: Judge Anthony Neapolitan's office.
Neapolitan: Sorry for not offering you chairs but I want to keep this meeting brief.

Panel 2
Two-shot of the judge and Ringo.
Neapolitan: I don't know where this Claud Southend fellow got some of his information, Mr. Ringo, but I'm assuming he's working on his own, and not for you.
Ringo: He does not work for me, your honor.

Panel 3
Two-shot of the judge and Schroeder.
Judge: And Ms. Schroeder, even aside from the embarrassing publicity, I am finding it difficult to understand why you continue to fight the habeus corpus motions and won't provide the materials demanded in discovery.
Schroeder. Uh ...

Panel 4
Schroeder turns confrontationaly to Ringo.
Schroeder: Can the defense explain what it intends to do with the evidence you are requesting?
Ringo: Certainly.
Panel 4
Medium close-up of Ringo.
Ringo: Multi-spectrum testing of the cheez and the vial containing it can pin-point its age and determine if its source matches that of any other samples of cheez known to the system.
Ringo: For instance, and not to make accusations, it could tell us whether that particular morsel of the substance had previously been logged into the police evidence store.
Panel 6
Medium shot of the judge at his desk, striking a no-bullshit pose, looking levelly at Schroeder off-panel.
Judge: Ms. Schroeder, that vial of 'cheez' is your only physical evidence on the narcotics charge, without which you have no case.
Judge: So tell me now, will you, or can you, produce that evidence for examination?

Panel 7A
Close-up of Schroeder looking at the judge nervously.
Schroeder: ... I ...
Panel 7 B
Close-up of the judge glaring back at Schroeder.
Schroeder (OP): ... uh ...

Panel 8
Three-shot of Ringo, Schroeder, and the judge. Ringo is looking quietly triumphant as Schroeder stammers out her answer. The judge just looks at her coolly.
Schroeder: Th-that evidence has been ... m-misplaced.
Schroeder: At this time the prosecution intends ... to drop all charges against Ms. Oresme.