Quantum Vibe: Château Périlleux Now On KIndle & DriveThru [ Nov 2, 2020 ]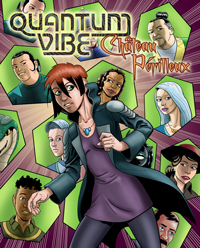 The hiatus is over, but now's still a good time to go back and read the previous volume of QUANTUM VIBE: Château Périlleux. Now available in digital format on Kindle and Drive Thru Comics!
QUANTUM VIBE: Château Périlleux asks how does a society without a formal government deal with crime and criminal conspiracies? In the far-future space-city known as Bubbleopolis, they do it with a mixture of wit, grit, and a culture based on rolling up one's sleeves and doing what must be done. Diana Martelli, a recent arrival, likes to call it compassionate individualism. And speaking of, young Diana is tasked with finding out who killed a supposedly un-killable android -- and uncovers a conspiracy which shakes the very foundations of the city and its culture.
As a bonus, we've added sixteen pages of "The Trial", a supplement to "Château Périlleux" which was not included in the printed version. Enjoy!
Please help Scott keep QUANTUM VIBE alive!
Buy our books:

Become a subscriber or patron
Transcript For Strip 479
Panel 1
Back to the drawing room at the Po estate. Xie-Po, Peng-Bo, and Seamus are again seated around the table, in front of the holoscreen. Now in the rightmost panel is the image of Johanna Diamondi.
Diamondi: Sorry for the delay in my response, but I felt I should undertake some due diligence before responding.


Panel 2
Angled 2-shot of Peng-Bo and Diamondi. Peng-Bo is looking a bit apprehensive.
Diamondi: Fortunately, HuoJinGong keeps a mirror database at its facility on Rhea, so I was able to get some information quickly.
Diamondi: Your Mr. Peng-Bo appears to have had an ... interesting career.

Panel 3
Two-shot of Xie-Po and Peng-Bo, with the former casting a dubious glance at the latter.
Diamondi: Fifty-four years ago, as vice-admin for water services in Antoniadi Division, your decision to favor one monopoly delivery provider provoked mass protests and near-rioting.

Panel 4
Medium close-up on Peng-Bo, starting to get angry.
Diamondi: I do find it interesting how your Mr. Peng-Bo has managed to overcome these embarrassments and others to rise to directorship of NiuYaoRui Division.
Diamondi: Does this reflect his tenacious passion for power or a failing in the HuoJinGong vetting system?

Panel 5
Angled 2-shot of Diamondi and Seamus. Now Seamus looks a bit discomfited.
Diamondi: You really should choose your associates more carefully, Seamus.
Diamondi: Although, I suppose even the most seasoned among us can make mistakes.

Panel 6
Close-up on Diamondi, completing her transmission.
Diamondi: I admit I could have gotten the wrong impression from the database, so before I cast my vote I would like to hear how Mr. Peng-Bo responds to this message.
Diamond: Good-bye for now, and good luck, Seamus.

Panel 7
Two-shot of Xie-Po and Peng-Bo, both looking very angry.
Xie-Po: The nerve of that bitch!
Peng-Bo: Who does this -- this insolent yinhu think she is, insulting me this way?

Panel 8
Medium c/u on Seamus, with death in his eye, talking through cleched teeth.
Seamus: Most importantly to you, she is a fully-vested shareholder in this project you're seeking to join.
Seamus: But also, she is my fiancée. So I advise you to keep a civil tongue in your face, if you want to keep both of them.