Quantum Vibe: Château Périlleux Now On KIndle & DriveThru [ Nov 2, 2020 ]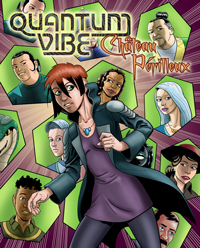 The hiatus is over, but now's still a good time to go back and read the previous volume of QUANTUM VIBE: Château Périlleux. Now available in digital format on Kindle and Drive Thru Comics!
QUANTUM VIBE: Château Périlleux asks how does a society without a formal government deal with crime and criminal conspiracies? In the far-future space-city known as Bubbleopolis, they do it with a mixture of wit, grit, and a culture based on rolling up one's sleeves and doing what must be done. Diana Martelli, a recent arrival, likes to call it compassionate individualism. And speaking of, young Diana is tasked with finding out who killed a supposedly un-killable android -- and uncovers a conspiracy which shakes the very foundations of the city and its culture.
As a bonus, we've added sixteen pages of "The Trial", a supplement to "Château Périlleux" which was not included in the printed version. Enjoy!
Please help Scott keep QUANTUM VIBE alive!
Buy our books:

Become a subscriber or patron
Transcript For Strip 541
Panel 1
A pair of ornate double-doors, beside which stands a ceremonial guard. The dialog comes from inside the doors.
Caption: The office of Director Chan Yuen-Lo:
Chief Ho (from inside): Thank you for seeing me, Director Chan.
Chan: Skip the pleasantries, Chief Ho. What is the situation?

Panel 2
Inside the office, Director Chan sits behind a very large desk, behind which is a decorated wall with a wide window in the center; the desk is flanked by eight monitor screens (backs to us). Ho stands in front of the desk, at attention.
Ho: This concerns the murder of the billionaire play-boy Ma Bo-Nu.
Ho: We ... suspect this was instigated by his cousin, Tong Xie-Po, co-heir to the Po Xu-ke estate.
Chan: What! How do you come to this conclusion?

Panel 3
Medium C/U on Ho:
Ho: Tong invited a foreigner, Dr. Seamus O'Murchadha, to a formal party yesterday. Then, he drew O'Murchadha away from the main event into a private conference.
Ho: Meanwhile, O'Murchadha's secondaries were sent away, and Tong sent Ma to follow them, on the pretext of keeping track of their whereabouts.

Panel 4
Looking past Ho at Chan, looking back at his subordinate intently.
Ho: One of the secondaries was a femiform android, of course, and Ma had always been ... obsessed with them.
Ho: It was a trap -- Ma was lured into an alleyway, where a third employee of O'Murchadha's, a BeltApe, killed him with her bare hands.