Quantum Vibe: Château Périlleux Now On KIndle & DriveThru [ Nov 2, 2020 ]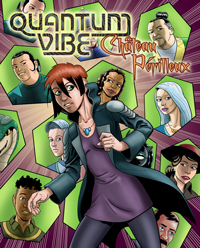 The hiatus is over, but now's still a good time to go back and read the previous volume of QUANTUM VIBE: Château Périlleux. Now available in digital format on Kindle and Drive Thru Comics!
QUANTUM VIBE: Château Périlleux asks how does a society without a formal government deal with crime and criminal conspiracies? In the far-future space-city known as Bubbleopolis, they do it with a mixture of wit, grit, and a culture based on rolling up one's sleeves and doing what must be done. Diana Martelli, a recent arrival, likes to call it compassionate individualism. And speaking of, young Diana is tasked with finding out who killed a supposedly un-killable android -- and uncovers a conspiracy which shakes the very foundations of the city and its culture.
As a bonus, we've added sixteen pages of "The Trial", a supplement to "Château Périlleux" which was not included in the printed version. Enjoy!
Please help Scott keep QUANTUM VIBE alive!
Buy our books:

Become a subscriber or patron
Transcript For Strip 551
Panel 1
Exterior view of the Transport Ship El-Kady, accelerating on ion drive, with Huoxing a very small disk in the background. The ship is roughly bullet-shaped, with six external pods arrayed around its wider section.
Caption: The Transport Ship El-Kady, two days out from Huoxing.

Panel 2
Cut to interior of the El-Kady -- a curved corridor lined with rounded-coffin-like pods, amidst a web a tubing. Lighting is low, just bright enough to see. The pods have little windows on the top -- sort of like the hibernation pods on the spaceship Discovery in the movie 2001: A Space Odyssey.
No dialog

Panel 3
Closer shot of one of the pods. We see a lighted panel on the side identifying this as Seamus o'Murchadha's pod, and can barely make out Seamus' sleeping face through the window.
No dialog
Panel 4
Moving along, we can see Nicole's face in the next pod, and beyond that, a cubby-hole in which a female figure sits.
No dialog.

Panel 5
Cut to the same corridor, but two days earlier. The lights are brighter. Seamus, Nicole, Buford and Murphy are approaching the now-open pods.
Caption: Two days earlier:
Seamus: I believe that one is Nicole's, this one is mine, and Buford's is across the corridor from Nicole's.
Nicole: Do we really have to travel this way?

Panel 6
Three-shot of Seamus, Nicole, Buford. Seamus looks a bit irritated, the two girls look abashed.
Seamus: The next cruise liner to Vesta does not depart for another 14 days.
Seamus: Our schedule cannot permit that delay, and besides we really ought to get clear of Huoxing as quickly as possible.
Seamus: Need I explain why?

Panel 7
Medium close-up on Nicole, looking embarrassed to admit her weakness.
Nicole: It's not that I expect luxury on every flight, but ... I've been having trouble with sleeping, since Luna.
Nicole: I ... I get nightmares sometimes, and I really don't want one I can't wake up from for 34 days.

Panel 8
Seamus lays a reassuring hand on Nicole's shoulder. Buford and Murphy look on sympathetically.
Seamus: I've done this many times -- the sleep is dreamless, I assure you.
Seamus: Now, let's get a move on. They must vacuum this section before departure.