Quantum Vibe: Château Périlleux Now On KIndle & DriveThru [ Nov 2, 2020 ]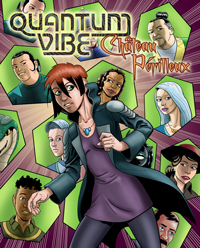 The hiatus is over, but now's still a good time to go back and read the previous volume of QUANTUM VIBE: Château Périlleux. Now available in digital format on Kindle and Drive Thru Comics!
QUANTUM VIBE: Château Périlleux asks how does a society without a formal government deal with crime and criminal conspiracies? In the far-future space-city known as Bubbleopolis, they do it with a mixture of wit, grit, and a culture based on rolling up one's sleeves and doing what must be done. Diana Martelli, a recent arrival, likes to call it compassionate individualism. And speaking of, young Diana is tasked with finding out who killed a supposedly un-killable android -- and uncovers a conspiracy which shakes the very foundations of the city and its culture.
As a bonus, we've added sixteen pages of "The Trial", a supplement to "Château Périlleux" which was not included in the printed version. Enjoy!
Please help Scott keep QUANTUM VIBE alive!
Buy our books:

Become a subscriber or patron
Transcript For Strip 66
Panel 1
Facing the sun, we see the helioflyer silhouetted against it, a tiny black mark on an ultra-bright disc.
Caption: The Sun's Corona, the large mass of charged plasma extending amillion kilometers outward from the Photosphere, is too hot even for state-of-the-art shielding to withstand.

Panel 2
Closer view of the helioflyer, angled a bit so we can see a bit of the illuminated side.
Caption: But strange as it seems, there are thin regions under the corona which are much cooler -- the lowest being no more than 4,100° Kelvin.
Caption2: To get there, the helio-flyer approaches fromt he southern pole, where the corona thins out to almost nothing.

Panel 3
Side view of the helioflyer diving towards the photosphere, a shock-wave visible around it.
Caption: Just below the corona is the Chromosphere, whose ionizing hydrogen atoms are mostly blocked by the shockwave of the flyer's considerable soeed.

Panel 4
The helioflyer levels off and cruises above the photosophere, with a flat horizon beyond.
Caption: Finally, at a mere 500 km above the sun's photosphere, the opaque 'surface' of roiling gasses, the helio-flyer levels off into a powered orbit at 436 Kilometers per second.

Panel 5
Inside the helio-flyer cockpit, we see Nicole in her suit at the controls.
Nicole: confirming altitude 500 km, speed 436 kph, course is on track.
Nicole: Confirming all ship's systems are in condition green.

Panel 6
Ext view of Helio-Flyer zooming across the swirling solarscape.
Nicole: Magnetic flux conditions show at 96 percent of forecast.
Nicole: I'm making a run for the equator.

Panel 7
Medium close-up of helmeted Nicole
Nicole: Time to package drop is 32 minutes.

Panel 8
Closer-in close-up of Nicole, looking a bit tense.
Nicole (thought): Assuming I can avoid getting either broiled by the Corona or ripped to shreds in the Photosphere before then.