Quantum Vibe: Château Périlleux Now On KIndle & DriveThru [ Nov 2, 2020 ]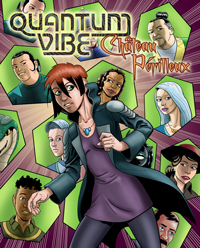 The hiatus is over, but now's still a good time to go back and read the previous volume of QUANTUM VIBE: Château Périlleux. Now available in digital format on Kindle and Drive Thru Comics!
QUANTUM VIBE: Château Périlleux asks how does a society without a formal government deal with crime and criminal conspiracies? In the far-future space-city known as Bubbleopolis, they do it with a mixture of wit, grit, and a culture based on rolling up one's sleeves and doing what must be done. Diana Martelli, a recent arrival, likes to call it compassionate individualism. And speaking of, young Diana is tasked with finding out who killed a supposedly un-killable android -- and uncovers a conspiracy which shakes the very foundations of the city and its culture.
As a bonus, we've added sixteen pages of "The Trial", a supplement to "Château Périlleux" which was not included in the printed version. Enjoy!
Please help Scott keep QUANTUM VIBE alive!
Buy our books:

Become a subscriber or patron
Transcript For Strip 71
Panel 1
Back at Helios base, in the monitoring room, Seamus notices a problem on one of his monitors.
Caption: Three and a half minutes later, on Mercury:
Seamus: Oh, no.
Wayne: What is it?

Panel 2
Both men are now peering intently at one of Seamus' monitors.
Seamus: There, see it? A new magnetic depression is forming.
Wayne: Right in the flyer's path!

Panel 3
Looking over the men's shoulders at the monitor. It shows the surface of Sol, with various lines and icons indicating the position of the Flyer. The Flyer's icon is moving close to a dark circular area.
Seamus: It could sprout a prominence at any moment.
Wayne: Can the Flyer survive contact with a prominence?

Panel 4
Back to the shot in the first panel, only now most of the monitors have gone dark or are showing flatlines. Seamus looks like he's in shock. Wayne is concerned but not as overwhelmed.
Wayne: Apparently not. Damn.
Panel 5
Same shot. Seamus just sits there, staring at the solar monitor. Wayne sits back in his chair, looking disgusted.
Wayne: Thirty-five million augrams down the drain. I hope you're satisfied.
Seamus: Satisfied?
Panel 6
Wayne growls at Seamus through gritted teeth, which snaps Seamus out of his funk.
Wayne: It was your idea to use a young, inexperienced pilot, when there are a half dozen seasoned pilots who could have done this job.
Seamus: I – I had my reasons.

Panel 7
Now Wayne is up out of his chair, preparing to leave.
Wayne: Whatever those were, I hope they were good ones. Because they cost the life of your assistant.
Seamus: We don't know she's dead. It could just be her transponder.

Panel 8
Wayne exits the room, his valets trailing in his wake. Seamus can only sit there and stare at his monitor, morosely.
Wayne: Oh, sure, just her transponder. And her entire telemetry stream.
Seamus: ...