Quantum Vibe: Château Périlleux Now On KIndle & DriveThru [ Nov 2, 2020 ]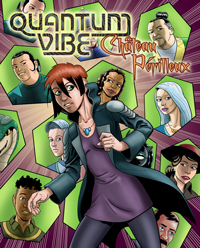 The hiatus is over, but now's still a good time to go back and read the previous volume of QUANTUM VIBE: Château Périlleux. Now available in digital format on Kindle and Drive Thru Comics!
QUANTUM VIBE: Château Périlleux asks how does a society without a formal government deal with crime and criminal conspiracies? In the far-future space-city known as Bubbleopolis, they do it with a mixture of wit, grit, and a culture based on rolling up one's sleeves and doing what must be done. Diana Martelli, a recent arrival, likes to call it compassionate individualism. And speaking of, young Diana is tasked with finding out who killed a supposedly un-killable android -- and uncovers a conspiracy which shakes the very foundations of the city and its culture.
As a bonus, we've added sixteen pages of "The Trial", a supplement to "Château Périlleux" which was not included in the printed version. Enjoy!
Please help Scott keep QUANTUM VIBE alive!
Buy our books:

Become a subscriber or patron
Transcript For Strip 929
Panel 1
In a large conference hall, looking from the back to front, we see rows with several dozen people sitting in chairs, facing the front where we see sitting behind a table, to the left, Johanna, in the center, Antigone, and on the right, Seamus. There is a large viewscreen on the wall behind them. Antigone is speaking.
Antigone: I hereby convene this extraordinary hearing, in conformity with provisions of the Treaty of Tycho ...

Panel 2
Three-shot of Seamus, looking subdued in his Faraday helmet, Antigone, still speaking, and Johanna, wearing her poker face.
Antigone: It is alleged that Dr. Seamus O'Murchadha, a resident of L-5 City, is in fact the infamous Theophilus Farnsworth, of West Terra, instigator of the Calamities.
Antigone: Dr. Johanna Diamondi so alleges, and seeks to extradite O'Murchadha to West Terra for trial.
Voice from off-panel: Objection!

Panel 3
Angle shot to include Murphy, who has stepped forward from the front row of the gallery.
Antigone: Murphy, advocate for O'Murchadha, is recognized. What is your basis?
Murphy: Thank you. If my client's accuser is to be considered on equal footing with my client, should she not also be required to wear a Faraday helmet?
Panel 4
Johanna is outraged, Antigone looks amused.
Johanna: That's ridiculous! Farnsworth's helmet is there for security reasons!
Antigone: And how good is our security here should I rule against you?
Antigone: Objection sustained. Dr. Diamondi, either you don a Faraday helmet of your own or remove O'Murchadha's.