Quantum Vibe: Château Périlleux Now On KIndle & DriveThru [ Nov 2, 2020 ]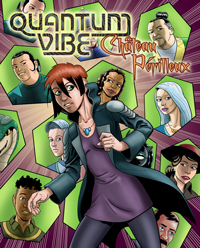 The hiatus is over, but now's still a good time to go back and read the previous volume of QUANTUM VIBE: Château Périlleux. Now available in digital format on Kindle and Drive Thru Comics!
QUANTUM VIBE: Château Périlleux asks how does a society without a formal government deal with crime and criminal conspiracies? In the far-future space-city known as Bubbleopolis, they do it with a mixture of wit, grit, and a culture based on rolling up one's sleeves and doing what must be done. Diana Martelli, a recent arrival, likes to call it compassionate individualism. And speaking of, young Diana is tasked with finding out who killed a supposedly un-killable android -- and uncovers a conspiracy which shakes the very foundations of the city and its culture.
As a bonus, we've added sixteen pages of "The Trial", a supplement to "Château Périlleux" which was not included in the printed version. Enjoy!
Please help Scott keep QUANTUM VIBE alive!
Buy our books:

Become a subscriber or patron
Transcript For Strip 1107
Panel 1
In the monorail terminal (we see an electronic sign saying, MONORAIL 14), Bok is casually leaning against a pillar, looking at his Screen. Zander is half-walking, half-running up to him. We see other people of various ages standing, leaning, sitting on benches, waiting for the monorail.
Zander: Hey, Bok.
Bok: Hey, Zander.
Zander: D'ja get ahold of your, uh, friend?
Bok: That I did.
Panel 2
As the two walk together, Bok surreptitiously hands Zander a small package.
Zander: You sure it's the right, uh, flavor churro?
Bok: I know churros well enough to tell one kind from the other.
Zander: I doubt that, but I guess I'll find out later when I, uh, taste it.

Panel 3
The two step aboard a monorail which has stopped at the platform. There are other people around, not paying attention.
Zander: Wish you'd introduce me to your friend. Would be more convenient.
Bok: You wouldn't like my friend. He's kind of an asshole.
Zander: Hey, you're kind of an asshole sometimes, and I like you.