Quantum Vibe: Château Périlleux Now On KIndle & DriveThru [ Nov 2, 2020 ]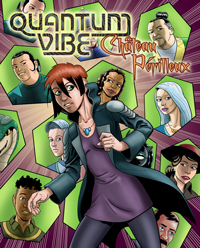 The hiatus is over, but now's still a good time to go back and read the previous volume of QUANTUM VIBE: Château Périlleux. Now available in digital format on Kindle and Drive Thru Comics!
QUANTUM VIBE: Château Périlleux asks how does a society without a formal government deal with crime and criminal conspiracies? In the far-future space-city known as Bubbleopolis, they do it with a mixture of wit, grit, and a culture based on rolling up one's sleeves and doing what must be done. Diana Martelli, a recent arrival, likes to call it compassionate individualism. And speaking of, young Diana is tasked with finding out who killed a supposedly un-killable android -- and uncovers a conspiracy which shakes the very foundations of the city and its culture.
As a bonus, we've added sixteen pages of "The Trial", a supplement to "Château Périlleux" which was not included in the printed version. Enjoy!
Please help Scott keep QUANTUM VIBE alive!
Buy our books:

Become a subscriber or patron
Transcript For Strip 156
Panel 1
Exterior view of the shuttle in its reflective cocoon, from a frontal angle. We can see the bogey approaching in the far distance. Its laser is no longer firing.
Nicole: Bogey is now 1100 meters away, closing at 160 meters per second.
Nicole: At its current rate it will come up along our top side at about 50 meters away.

Panel 2
Nicole, Seamus and the Pilot inside the shuttle. Nicole is peering at her holographic display.
Seamus: Tap the lowest left icon again, to bring up the EM-shield requester.
Nicole: OK, now what?

Panel 3
Focus on Nicole and her display, but we can still see Seamus in the right background.
Seamus: Now, dial in a new range setting, 300 meters, but wait until the bogey is 400 meters away before executing.
Panel 4
Nicole and Seamus, focus shifted a bit to include more of Seamus, who is getting angry.
Nicole: But once they get inside the EM-Shield, won't they be able to take control of our shuttle?
Seamus: No arguments! We have seconds! Do it!
Panel 5
Close-up on Nicole, there's a small requester box in the display in front of her face. She touches a finger to the 'execute' button.
Nicole: All right, then. Here goes nothing ...

Panel 6
Exterior view. We can see the bogey now – it's a large, rather evil-looking ship, now only a few dozen meters away from the expanded EM-shield boundary. It has an open bay on her underside large enough to engulf the small shuttle, although for now it is flying a bit above the shuttle's path, avoiding the thruster flare.
Nicole: Shield now at 300 meters.
Nicole: Bogey now at 350 meters ...
Panel 7
Same shot. As the bogey intersects the shield boundary, electrical arcs flash all over the bogey's hull.
SFX: BZZARRKK!!!

Panel 8
Inside the shuttle, Nicole, Seamus and the Pilot, looking quizzically at his instruments. Seamus is grinning somewhat evilly.
Pilot: It – came briefly within 250 meters, then stopped accelerating.
Pilot: It's falling away now. What happened to them?
Seamus: I happened to them.