Quantum Vibe: Château Périlleux Now On KIndle & DriveThru [ Nov 2, 2020 ]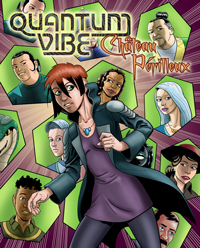 The hiatus is over, but now's still a good time to go back and read the previous volume of QUANTUM VIBE: Château Périlleux. Now available in digital format on Kindle and Drive Thru Comics!
QUANTUM VIBE: Château Périlleux asks how does a society without a formal government deal with crime and criminal conspiracies? In the far-future space-city known as Bubbleopolis, they do it with a mixture of wit, grit, and a culture based on rolling up one's sleeves and doing what must be done. Diana Martelli, a recent arrival, likes to call it compassionate individualism. And speaking of, young Diana is tasked with finding out who killed a supposedly un-killable android -- and uncovers a conspiracy which shakes the very foundations of the city and its culture.
As a bonus, we've added sixteen pages of "The Trial", a supplement to "Château Périlleux" which was not included in the printed version. Enjoy!
Please help Scott keep QUANTUM VIBE alive!
Buy our books:

Become a subscriber or patron
Transcript For Strip 1754
Panel 1
Looking at Diana in her chair from the POV of the big screen. She has her arms crossed.

Scarlett (from screen): Arti-folk came along with bio-folk in the Great Expansions, sometimes as partners, sometimes as hired labor or indentured servants or slaves.
Scarlett: In a few cases, arti-folk established their own colonies, excluding bio-folk. In others, advanced A.I.s were set up as a ruling class over bio-folk.
Diana (thought): No shit.
Panel 2
Back to the screen. Scarlett is standing on a disc. Behind and to her right is a logo-graphic of merged circles containing five faces, representing the major demographic groupings: classics, transhumes, furries, phish, and arti-folk.
Scarlett: In Bubbleopolis and other places where harmony and prosperity prevail, arti-folk as well as transhumes, furries, phish, and 'classic' bio-folk – all enjoy the same rights of self-ownership and of contract.
Panel 3
Now behind Scarlett we see a futuristic business office, with a few arti-folk at workstations while another, the manager, walks along with a furry, both intently discussing something on a Screen one of them is holding.
Scarlett: Arti-folk most often find places for themselves as employees and managers of larger enterprises. They are usually very conscientious and detail-oriented.
Panel 4
Behind Scarlett on a decorated stage we see an arti-person custom-built to be a one-man band. Several appendages ending in musical instruments, all being played by arm-extensions.
Scarlett: Some find other niches, even in the entertainment industry. This one, known as The Troubadour, entertains millions with his 'cover' performances of popular music.
Scarlett: But despite a repertoire of 25,000 songs, The Troubadour never found success with original work.
Caption: Well, that's showbiz.