Quantum Vibe: Château Périlleux Now On KIndle & DriveThru [ Nov 2, 2020 ]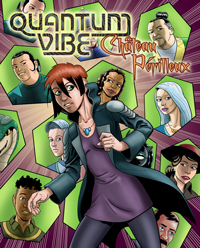 The hiatus is over, but now's still a good time to go back and read the previous volume of QUANTUM VIBE: Château Périlleux. Now available in digital format on Kindle and Drive Thru Comics!
QUANTUM VIBE: Château Périlleux asks how does a society without a formal government deal with crime and criminal conspiracies? In the far-future space-city known as Bubbleopolis, they do it with a mixture of wit, grit, and a culture based on rolling up one's sleeves and doing what must be done. Diana Martelli, a recent arrival, likes to call it compassionate individualism. And speaking of, young Diana is tasked with finding out who killed a supposedly un-killable android -- and uncovers a conspiracy which shakes the very foundations of the city and its culture.
As a bonus, we've added sixteen pages of "The Trial", a supplement to "Château Périlleux" which was not included in the printed version. Enjoy!
Please help Scott keep QUANTUM VIBE alive!
Buy our books:

Become a subscriber or patron
Transcript For Strip 201
Panel 1
Nicole and Seamus, with their luggage at their feet, stand outside the door to Nicole's stateroom, looking into it. The stateroom is very small – more like a slot tall enough to stand in, with a bed on one side and a wash basin on the other.
Nicole: Are you kidding?
Nicole: The bathroom in my apartment is bigger than this.
Panel 2
Two-shot of Nicole and Seamus, still in the corridor.
Seamus: I'm sorry about this, but I'd reserved a larger room for both of us previously.
Seamus: When we decided to go with separate rooms, these … smaller rooms were the only ones left.
Panel 3
Nichole steps into the room, her bag following. Seamus remains outside the door.
Nicole: I guess it'll have to do. For sleeping, anyway.
Seamus: You're welcome to spend the day cycle with me in my stateroom.
Panel 4
Nicole grins back at Seamus, who is looking back at her askance.
Nicole: That's okay. There are several lounges on board.
Nicole: I'll be in one of them most of the time I'm not sleeping.
Panel 5
Seamus is not looking happy.
Seamus: It would be better if you limited your drinking.
Seamus: I don't wish to be a Pelosi, but you are my assistant and I may have need of you from time to time.
Panel 6
Medium shot of Nicole, tapping a finger to her temple.
Nicole: Gotcha boss. I'll stay sober … well, mostly.
Nicole: And if you need me, just call me on our direct line.
Panel 7
In the hallway, Seamus begins walking away, his luggage following. Nicole sticks her head out her doorway after him.
Seamus: Please join me for dinner at 1900, in my stateroom, will you?
Nicole: Still playing hermit? Suit yourself.

Panel 8
Exterior shot of the Dejah Thoris, pulling away from Ishtar Station.
Nicole: After what we've been through, I'm looking forward to a relaxing 4-week cruise.