Quantum Vibe: Château Périlleux Now On KIndle & DriveThru [ Nov 2, 2020 ]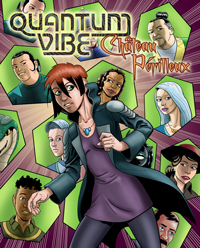 The hiatus is over, but now's still a good time to go back and read the previous volume of QUANTUM VIBE: Château Périlleux. Now available in digital format on Kindle and Drive Thru Comics!
QUANTUM VIBE: Château Périlleux asks how does a society without a formal government deal with crime and criminal conspiracies? In the far-future space-city known as Bubbleopolis, they do it with a mixture of wit, grit, and a culture based on rolling up one's sleeves and doing what must be done. Diana Martelli, a recent arrival, likes to call it compassionate individualism. And speaking of, young Diana is tasked with finding out who killed a supposedly un-killable android -- and uncovers a conspiracy which shakes the very foundations of the city and its culture.
As a bonus, we've added sixteen pages of "The Trial", a supplement to "Château Périlleux" which was not included in the printed version. Enjoy!
Please help Scott keep QUANTUM VIBE alive!
Buy our books:

Become a subscriber or patron
Transcript For Strip 2041
Panel 1
A very dour Bok is presenting a newscast, appearing in front of his Las Noticias Indelicadas logo (which is a bit different now.

Large text behind Bok: Tapa Por Deus?
Bok: It is now two days since the event some are calling the 'God-Strike', and we have updated casualty numbers..
Bok: Everyone and every thing inside Villa-Lobos Sphere, which took the direct hit, is gone. That number is 152,329 persons.
Panel 2
Closer shot on Bok

Bok: The adjacent spheres – Merielles, Cavalcanti, Portinary, Garibaldi, and De Sousa, show 1.2 million dead, with 475,231 persons injured but surviving.
Bok: As for the dead, so far more than 827 thousand back-ups have been recovered, so they might be resurrected.
Bok: However since most people keep their back-ups in or near their homes, the residents of Villa-Lobos, along with the less fortunate in the adjacent spheres … belong to the ages.
Panel 3
A high-angle shot of a make-shift emergency medical center. Patients on beds, doctors and nurses bustling about tending to them.
Caption (Bok): Make-shift medicos have been set up in unaffected spheres to handle the unprecedented number of injured, but they are being overwhelmed.
Caption: Anyone with medical skills who is able to assist is urged to contact Hermanos Unidos, Ajuda de Emergência, or Manos Amigos and register with them.

Panel 4
Back to Bok
Bok: Word of the attack has been spreading through human space, and condolences are pouring in from hundreds of worlds, along with some offers of aid.
Bok: Not to mention, a torrent of queries from anxious relatives, friends and investors seeking to learn about the fates of loved ones and business partners.
Bok: And amidst those condolences and queries they often ask: What's coming next?