Quantum Vibe: Château Périlleux Now On KIndle & DriveThru [ Nov 2, 2020 ]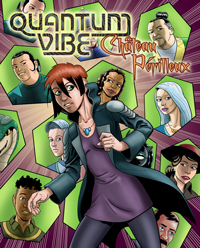 The hiatus is over, but now's still a good time to go back and read the previous volume of QUANTUM VIBE: Château Périlleux. Now available in digital format on Kindle and Drive Thru Comics!
QUANTUM VIBE: Château Périlleux asks how does a society without a formal government deal with crime and criminal conspiracies? In the far-future space-city known as Bubbleopolis, they do it with a mixture of wit, grit, and a culture based on rolling up one's sleeves and doing what must be done. Diana Martelli, a recent arrival, likes to call it compassionate individualism. And speaking of, young Diana is tasked with finding out who killed a supposedly un-killable android -- and uncovers a conspiracy which shakes the very foundations of the city and its culture.
As a bonus, we've added sixteen pages of "The Trial", a supplement to "Château Périlleux" which was not included in the printed version. Enjoy!
Please help Scott keep QUANTUM VIBE alive!
Buy our books:

Become a subscriber or patron
Transcript For Strip 31
Panel 1
Back in the L-5 City, Nicole enters an establishment identified by a sign, 'Alizadeh Interfacing.'
Caption: In the Arch, L-5 City.
Panel 2
Nicole stands before a receptionist desk, behind which is seated another young-looking woman of apparent Iranian extraction. Nicole is handing the woman a card.
Nicole: I'm Nicole Oresme, here for my 13:00 appointment. This is my referral.
Panel 3
Medium close-up of the receptionist looking at the card, eyes widening.
Receptionist: Peyman!
Panel 4
A rather large and not-too-bright-looking Persian man appears instantly next to the Receptionist, somewhat startling Nicole.
Receptionist: Escort this honored client to the preparation room at once.
Panel 5
The preparation room. Peyman remains by the door as Nicole enters. Also in the room are Farzad Alizadeh, a middle-aged Persian man, and a young, bright-looking male assistant, Yousef. Front and center is something that looks like a dentist's chair.
Farzad: Welcome, Ms. Oresme. I am Dr. Farzad Alizadeh and this is my assistant, Yousef.
Farzad: Please have a seat and we'll get started right away.
Panel 6
Three-shot of Farzad, Yousef and Nicole in the chair, looking slightly uncomfortable.
Farzad: You are to be receiving the M-6460 Series Cortical Processor Implant, the very latest, yes?
Farzad: Yousef, begin the anesthetic procedure.

Panel 7
Same shot. Youself is holding up a small facial breathing mask, but is interrupted by Nicole.
Nicole: Ah, no offense intended, but I'd feel more comfortable with a female assistant, please?
Farzad: Of course.

Panel 8
Suddenly, in place of Youself is a handsome young Persian woman. Nicole looks impressed.
Farzad: This is Niki.
Nicole: Now, that's customer service.
Farzad: Your employer Dr. Murtagh always demands the best.