Quantum Vibe: Château Périlleux Now On KIndle & DriveThru [ Nov 2, 2020 ]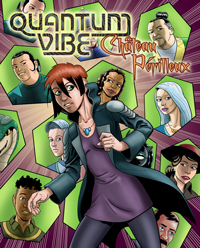 The hiatus is over, but now's still a good time to go back and read the previous volume of QUANTUM VIBE: Château Périlleux. Now available in digital format on Kindle and Drive Thru Comics!
QUANTUM VIBE: Château Périlleux asks how does a society without a formal government deal with crime and criminal conspiracies? In the far-future space-city known as Bubbleopolis, they do it with a mixture of wit, grit, and a culture based on rolling up one's sleeves and doing what must be done. Diana Martelli, a recent arrival, likes to call it compassionate individualism. And speaking of, young Diana is tasked with finding out who killed a supposedly un-killable android -- and uncovers a conspiracy which shakes the very foundations of the city and its culture.
As a bonus, we've added sixteen pages of "The Trial", a supplement to "Château Périlleux" which was not included in the printed version. Enjoy!
Please help Scott keep QUANTUM VIBE alive!
Buy our books:

Become a subscriber or patron
Transcript For Strip 81
Panel 1
At the Dispatcher's office. Seamus is standing outside the window, leaning on his cane. Wayne can be seen in the background, with his valets at his elbows, apparently in some kind of tel convo (hand to side of head as if holding a mobile phone).
Seamus: Anything yet?
Dispatcher: Still no signal, but if the ship makes it out 5 million klicks, our sensors will see it.

Panel 2
Closer two-shot of Seamus and the Dispatcher. The Dispatcher is a bit less gruff than he was before.
Seamus: Regrettably, I failed to foresee this situation and did not set up equipment to detect an 8-meter craft boosting away from the Sun.
Dispatcher: Yeah, well, nobody's perfect, Doctor.

Panel 3
Another 2-shot of Seamus and the Dispatcher, different angle. Seamus looks pained.
Seamus: Augh, no.
Dispatcher: What's wrong?

Panel 4
Medium close-up on Seamus, looking serious.
Seamus: Sir, if you want to be formal, address me as 'Dr. O Murchadha.' If you want to be informal, address me as 'Seamus.'
Seamus: But please don't call me 'Doctor.' I'm a person, not a title.

Panel 5
Wayne has now walked up to the window with Seamus and the Dispatcher. Wayne is smirking, Seamus rolls his eyes. Dispatcher tries to pretend he's not listening.
Wayne: You may also call him 'Lord of All Space and Time' but 'Seamus' is shorter.
Seamus: I'm sure they think you're quite the witty fellow on Terra.

Panel 6
Two-shot of Wayne and Seamus, Wayne leaning into Seamus like Bugs Bunny tweaking Elmer Fudd.
Wayne: Oh, I killed at the Comedy Palace.
Seamus: No doubt they slipped on your oil slick and cracked their skulls.
Panel 7
Wayne and Seamus are interrupted by the Dispatcher, who has one hand to his ear and is waving at them with one of the others.
Dispatcher: Pipe down, you clowns!
Dispatcher: I think I'm picking up a signal.

Panel 8
Medium close-up on the Dispatcher – still holding one hand to his ear, peering intently at his monitor screen.
Voice (filtered): (unintelligible) out of (unintelligible) northern pole, on trajectory to Mercury. Helios Base, do you copy?