Quantum Vibe: Château Périlleux Now On KIndle & DriveThru [ Nov 2, 2020 ]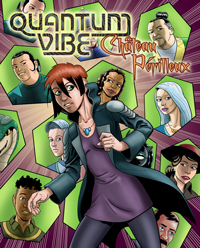 The hiatus is over, but now's still a good time to go back and read the previous volume of QUANTUM VIBE: Château Périlleux. Now available in digital format on Kindle and Drive Thru Comics!
QUANTUM VIBE: Château Périlleux asks how does a society without a formal government deal with crime and criminal conspiracies? In the far-future space-city known as Bubbleopolis, they do it with a mixture of wit, grit, and a culture based on rolling up one's sleeves and doing what must be done. Diana Martelli, a recent arrival, likes to call it compassionate individualism. And speaking of, young Diana is tasked with finding out who killed a supposedly un-killable android -- and uncovers a conspiracy which shakes the very foundations of the city and its culture.
As a bonus, we've added sixteen pages of "The Trial", a supplement to "Château Périlleux" which was not included in the printed version. Enjoy!
Please help Scott keep QUANTUM VIBE alive!
Buy our books:

Become a subscriber or patron
Transcript For Strip 2013
Panel 1
Otto standing before the Arbs, continues his testimony.

Arb Andrews: So, after you heard the sonic grenade, then what?
Otto: I made my way towards the direction of the blast, as best I could.
Otto: Finally, I saw Diana, with Wook's body carried in her Bubb …
Otto: And Pauline Kempadoo, getting ready to jump out at Diana.

Panel 2
Flashback scene: Otto reacting to watching Kempadoo's hands get shredded.
Caption (Otto): 'I wanted to warn her but I … I froze.'
Caption : 'Anyway, when Kempadoo grabbed Diana by the arms, Diana's jacket ...
Caption : 'Well, it has defensive devices, and this one sliced Kempadoo's hands to ribbons.'
Panel 3
Angled shot so we can see both Diana and Kempadoo seated behind Miller, sneering at each other.
Otto (OP): And then Diana shot Kempadoo with her zringer … a stun shot, apparently.
Otto (OP): But the next moment, someone I didn't see before shot Diana.
Otto: Some men in masks and dark suits picked up both Diana and Kempadoo and carried them off in displacer-cots.
Panel 4
Otto in left foreground, behind him to the right we can see Miller and deCastries looking unhappy.
Arb Sandini (OP): Masks? So how did you know where they were taking Senhora Martelli?
Otto: I heard one of them say they were going to something called 'Shat Toe Perry Loo.'
Otto: But I had no idea what that was, so I ran off and alerted Lorelei, hoping she'd know.
Otto: She didn't, either, but she got in touch with Senhora Roaz right away.