Quantum Vibe: Château Périlleux Now On KIndle & DriveThru [ Nov 2, 2020 ]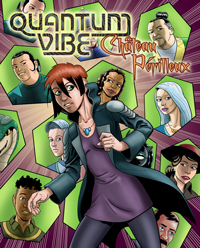 The hiatus is over, but now's still a good time to go back and read the previous volume of QUANTUM VIBE: Château Périlleux. Now available in digital format on Kindle and Drive Thru Comics!
QUANTUM VIBE: Château Périlleux asks how does a society without a formal government deal with crime and criminal conspiracies? In the far-future space-city known as Bubbleopolis, they do it with a mixture of wit, grit, and a culture based on rolling up one's sleeves and doing what must be done. Diana Martelli, a recent arrival, likes to call it compassionate individualism. And speaking of, young Diana is tasked with finding out who killed a supposedly un-killable android -- and uncovers a conspiracy which shakes the very foundations of the city and its culture.
As a bonus, we've added sixteen pages of "The Trial", a supplement to "Château Périlleux" which was not included in the printed version. Enjoy!
Please help Scott keep QUANTUM VIBE alive!
Buy our books:

Become a subscriber or patron
Transcript For Strip 91
Panel 1
Nicole's Helio-Flyer and her flotilla are descending towards Mercury's north pole, now about 2km above and downrange from Helios Base. They are thrusting against their angle of descent.
Dispatcher (filtered): Helio-Flyer this is Dispatch, we track your approach at 117 mark 2000 meters.

Panel 2
In the Helio-Flyer cockpit, an extremely wired Nicole keeps her vigil.
Dispatcher: Transfer landing control to base, we'll reel you in.
Nicole: That's a negative, Dispatch.

Panel 3
At the Dispatcher's desk. We can see Seamus leaning by the window, focus is on the Dispatcher who is a lot more annoyed than usual.
Nicole: This is my cortical implant flying this bird. I'm not handing the keys over to anyone, do you copy?
Dispatcher: Listen, kiddo, hand over control or you don't have clearance to land.

Panel 4
In the lower part of the panel, the Dispatcher at his console. In the upper part, in a cameo sub-frame, we see Jake Offenberg. In the upper right, in another cameo, it's Gary Fox.
Jake: Aw, let her land, Enry!
Gary: She's flown right on the beam all the way so far. I think she can handle it.
Dispatcher: You guys are out of your minds.

Panel 5
Seamus leans into the Dispatcher's window a bit, in a conspiratorial pose. Dispatcher just growls at him.
Seamus: Beg pardon, but I think there's a situation here you're not aware of …
Dispatcher: I know my job, Dr. O Murchadha.

Panel 6
In the corridor outside the Dispatcher's window, we see Seamus standing by the window and the Dispatcher peering past him, at the large crowd of people who are assembled there.
Seamus: It seems that a great many people have taken interest in our young helio-flyer …

Panel 7
Looking over the tops of the heads of people in the corridor, at Seamus by the window with the dispatcher looking at the crowd with some alarm.
Seamus: News media, dignitaries, a lot of people are expecting to see our heroine make her landing. It would be rather gauche to disappoint them, don't you think?

Panel 8
Medium close-up on the Dispatcher, barking commands into his console.
Dispatcher: Crash alert! Close hangar blast doors! Emergency crews stand by!
Dispatcher: All other persons clear the hangar immediately!